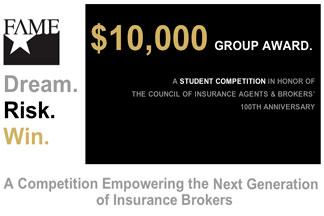 We do a lot of hand-wringing in our industry about the lack of young talent and the urgency of recruiting the good ones before every single independent agent in America leaps lemming-like into retirement. We've known for a long time that insurance has an image problem and that we can't keep applying the same principles to recruiting and hiring and expecting a different result.
But smart organizations are doing something about attracting young people by going directly to the source. That's the thinking over at The Council of Insurance Agents & Brokers, which recently announced a new student competition that not only targets young people, but was designed by them.
Sponsored by its FAME charitable and educational arm – the Foundation of Agency Management Excellence – and open to risk management students at FAME's universities, the "Dream, Risk, Win" competition challenges teams of up to five students to craft a plan addressing a complex industry issue over the course of an academic semester. The bait? A top award of $10,000.
"Our industry's traditional hiring paradigm has never been focused on recruiting the younger generation, but rather on 'churning and burning' hires from the competition. But we're in a new world now," said Julia Kramer, SVP of leadership and management sources at The Council.
The association has been working on the issue of how to engage younger generations in the insurance industry for several years, and has developed a number of initiatives. They reach out to college students through their scholarship program and conduct workshops at the member level to develop leadership among the youngest employees. The Council also generates publications like the "Hottest Career You've Never Heard Of" booklet that's sent out to participating FAME universities to educate faculty and career counselors on the industry. And they maintain an active member ambassador program that connects with students at FAME universities for internships and jobs.
But this latest program is different because it was actually created by young people.
The Council asked its own young employees and college interns to help design a program that would grab the attention of their peers. The young team came up with the questions and helped design the contest's web page and marketing material.
The two challenges are:
1. Recruiting for the Future. How can the commercial brokerage industry attract the new generation into its workforce?
2. Future Broker Model. What will the future brokerage business model look like?
Competitors are also welcome to attack another issue as long as it's relevant to the industry.
Students will work with faculty advisors to develop a 2-3 minute preliminary video "elevator pitch" project overview; a final 5-minute video; and a written business plan addressing the issue.
The competition deadline is Jan. 31, 2013, with winners expected to be announced by May. Awards will be presented in October at The Council's Insurance Leadership Forum in Colorado.
For detailed information on the competition, go to http://www.ciab.com/FAME/DreamRiskWin/