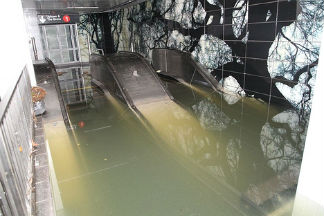 New York City's Mass Transit Authority is giving a loss estimate of $5 billion of which private insurers should kick-in more than $1 billion.
In a presentation at a board meeting dated Nov. 28 MTA officials say while it is "too early to have more than highly provisional estimates" the authority says it has infrastructure damage of $4.75 billion and operating loss, comprising lost revenue and increased operating costs, of $268 million.
It says losses are covered by a combination of insurance, federal programs including FEMA and MTA resources.
The MTA says it has insurance coverage for infrastructure damage of $1.075 billion maximum coverage and standard FEMA recoveries of 75 percent. The MTA estimates it will have to cover $950 million of infrastructure damage.
Operating losses will be covered by business interruption and extra expense insurance coverage, plus FEMA, the authority says, adding it "anticipates substantial recoveries."
The MTA says that while it expects advances from insurers and the government, final settlement could take two to three years.
The MTA is known to have a captive program covering the first $25 million in loss.
When Superstorm Sandy made landfall on Oct. 29, subway, rail and highway tunnels were flooded shutting down the system throughout the region. Service has not been restored throughout most of the system except for such areas as hard hit sections of Queens.
In New Jersey, the Hoboken PATH station, not part of the MTA, still remains closed.