Allstate Corp. says it expects $1.08 billion in pretax catastrophe losses, mostly from Superstorm Sandy, for the month of October.
The Northbrook, Ill.-based insurance group says in a statement that while gross losses are higher, the company expects to get about $200 million from reinsurance.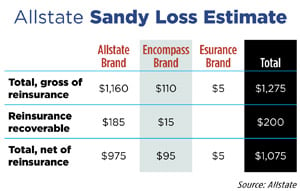 Allstate says the late October storm was the largest of five catastrophe events in October, but it did not break down each event.
About 66 percent of the gross catastrophe loss estimate of around $1.28 billion is attributable to New York, says Allstate. About 20 percent comes from New Jersey, with 14 percent generated by other affected states.
Delving further, auto claims represented about 40 percent of the total gross losses. Nearly 80 percent of that stems from New York, Allstate says.
The insurer says its nationwide reinsurance agreement excludes New Jersey and Florida, but Allstate has three reinsurance contracts for New Jersey.
Allstate expects Sandy losses "will be contained within the first layer of the nationwide reinsurance agreement," and it predicts "minimal recovery under the New Jersey reinsurance agreement."
The estimate is based on inspections by adjusters and the company's historical loss development factors.
Sandy made landfall in Southern New Jersey before heading inland and up toward Maine. Most estimates have indicated a majority of insured losses occurred in New Jersey and New York. Catastrophe modeler Risk Management Solutions has issued the highest Sandy-related insured-loss estimate among the major modelers, at up to $25 billion. AIR Worldwide recently upped its prediction to as much as $22 billion in insured losses, and Eqecat says losses will be up to $20 billion.
Allstate joins a growing group of insurers who have announced losses tied to the storm. Yesterday Cincinnati Financial Corp. said it expects a $25 million to $35 million loss to be recorded in the fourth quarter thanks to claims generated by Superstorm Sandy, while fellow Ohioan Progressive Corp. says it sustained catastrophe losses of about $55 million in October due to Superstorm Sandy.
Tower Group says it expects an after-tax net loss from Superstorm Sandy of between $55 million and $68 million in the fourth quarter.
Reinsurer Swiss Re says Sandy could cause the company $900 million in pretax catastrophe losses.