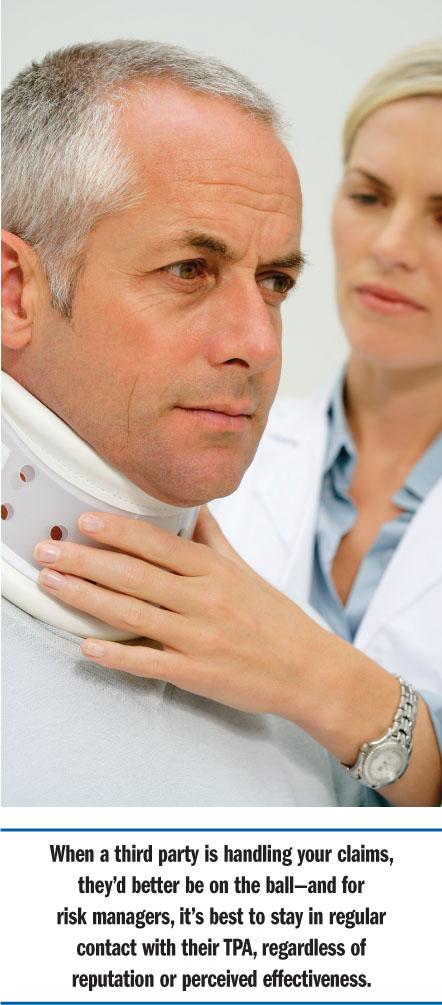 Hiring the right third-party administrator (TPA) to handle an organization's claims, and then working with the vendor in a productive partnership, are two of the most critical responsibilities many risk managers face.
The first step in any successful TPA relationship is for risk managers to do some serious due diligence in order to ensure they're contracting with a reliable partner. That begins with a thorough self-assessment of the organization's own needs.
When Dale Lindstrom, risk manager at energy-company Vestas Wind Technologies, was scouting a few years ago for a new claims administrator (with help from his broker, Marsh), Lindstrom's TPA checklist included the vendor's experience level, its approach to claims management, and its having a deep knowledge of the specifics of managing employee health care and Workers' Compensation issues.
Additionally, because Vestas employs 1,250 U.S. employees in 28 states, Lindstrom needed a partner with a national reach and familiarity with dozens of local health-care providers. It ultimately decided on Gallagher Bassett Services.
Then, in 2010, Vestas joined Columbus Captive Insurance, a heterogeneous group-captive insurance program consisting of 70-plus members. Coincidentally, Columbus also uses Gallagher Bassett.
And this use of a known TPA vendor was important to Lindstrom—as he knows how easy it is for serious issues to arise via problems caused by a TPA's execution.
During one claim three years ago, before Vestas partnered with Gallagher Bassett, "a breakdown in communication between our TPA and the plaintiff delayed getting the final settlement [to the plaintiff]," he recalls. "The claimant's attorney was planning to take it back to the legal realm and impose fees on us, instead of the TPA responsible, for not responding to the final arrangement."
Once the problem was identified, the TPA stepped up and indemnified all fees and penalties. But the lesson was learned: When a third party is handling your claims, they'd better be on the ball—and for risk managers, it's best to stay in regular contact with their TPA, regardless of reputation or perceived effectiveness.
It's a sentiment shared by Sarah Perry, risk manager for the City of Columbia, Mo., who says she feels a lot more comfortable having some serious oversight of the process: "Personally, I want a TPA that has the ability and willingness to give us [in-depth] access to claims information."
That desire for involvement comes from experience: Perry saw firsthand two very different examples of how TPAs can handle their work.
On the poor-performance side, Perry relates a story in which the city's third-party administrator at the time was handling the case of a city employee who had a Workers' Comp claim.
The individual was approved for medical treatment that was later deemed by the TPA to be too costly. The treatment was halted and replaced with a cheap alternative. The story got out, and the resulting public-relations fallout fostered negative perception of how city-employee claims were being handled.
"It looked bad for the TPA and the city, and the lack of trust rippled through the department and posed a challenge for us for a while," she says.
Conversely, Perry tells of how 10 years ago a contractor was killed on city property, and a claims adjuster and inspector from the city's TPA (the same one it uses now) were on site within 24 hours even though their presence was not explicitly requested. The TPA, Corporate Claims Management Inc. of Chesterfield, Mo., investigated the circumstances surrounding the event and expedited the settlement of the resulting claim.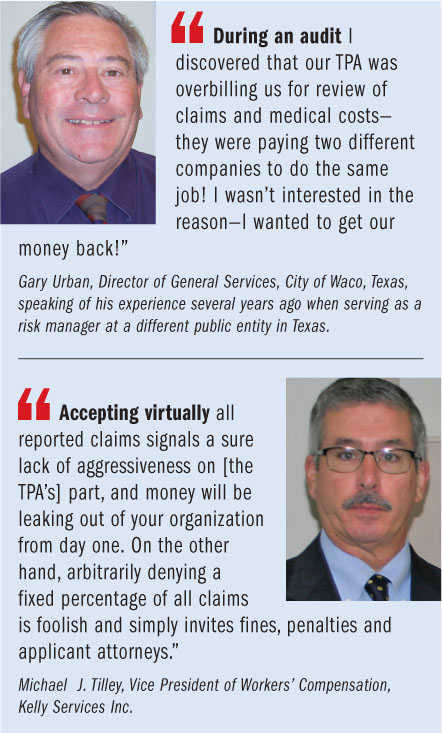 Be Specific on Service, Pricing Expectations
Being as specific as possible with the services required of the TPA—and what the organization is prepared to pay for them—helps greatly in weeding out some prospective partners.
For example, the City of Waco, Texas' most-recent request for proposal for a Workers' Compensation Claims and Cost Containment partner (released in September 2010) was a voluminous 40-page document that called for detailed submissions highlighting a vendor's experiences and references, qualifications, pricing, and overall responsiveness.
Gary Urban is director of general services for the City of Waco, which employs 1,600 municipal employees staffing water-treatment plants, the fire department, utility services and other city businesses.
Five years ago, Urban notes, the city was paying $1.2 million in annual claims for Workers' Comp. After switching to a new TPA, Tristar Risk Management of Long Beach, Calif., his yearly payout is now down to less than $700,000.
Urban says those cost savings are due to increased accountability between his office and Tristar's staff regarding ground rules for claims administration, including interdepartmental cooperation in injury management; early claims reporting; timely return to work; and thorough claims evaluations that include police reports, photos and witness statements.
Urban recalls a time prior to his job with the City of Waco when he was in a risk-management position at another public entity in the state—and made a surprising discovery about the claims administrator it was using.
"During an audit I discovered that our TPA was overbilling us for review of claims and medical costs—they were paying two different companies to do the same job! This may either have been mismanagement of business between offices, or it could have been collusion. However, I wasn't interested in the reason—I wanted to get our money back!"
Urban stresses it's important to stay connected with the TPA during the claims process, in part because at the end of the day, the organization knows its own operations and culture best.
For example, the City of Waco's risk-management approach includes an on-site health clinic staffed by medical professionals who can work immediately with patients to treat on-the-job injuries and oversee the back-to-work process.
"We have the responsibility to actively oversee our claims since we may know facts about a claim that are not apparent to the TPA," he adds. "In our case, we have a health clinic, and lots of relevant information is known by our [own] doctors and nurses."
Michael J. Tilley, vice president of Workers' Compensation for Kelly Services Inc., a global provider of workforce solutions, agrees that taking regular and deep dives on a claims-administrator's services and processes is always a good idea.
Kelly Services Inc. has been using its current TPA, ESIS, since 2005. Besides Workers' Compensation claims processing, ESIS handles Kelly's General Liability, Auto, U.S. Life and Health claims as well as a few rare foreign-liability claims.
One of the ways in which Tilley gauges the quality of his company's TPA is to visit the vendor's office and talk to all levels of staff, from claims adjusters to the vice president, conducting the trip as an interview.
Come renewal time, one of his queries is the TPA's capacity to take on new cases, given a forecasted new claim volume—and making sure there are no surprises when it comes to the price of certain services.
"Many times [the TPA's] claim-service fees will be subsidized by pricing in other areas in order to 'remain competitive,'" he says. "But if you measure firms in total, the shell-games that might be played disappear. For example, how are you being charged for medical-bill review? Is [service charged] on a percent-of-savings basis, or on a per-claim basis? The answers can be revealing when comparing competitors."
Another point of interest for Tilley is the TPA's rate of claims denial. "Accepting virtually all reported claims signals a sure lack of aggressiveness on [the administrator's] part, and money will be leaking out of your organization from day one," he notes. "On the other hand, arbitrarily denying a fixed percentage of all claims is foolish and simply invites fines, penalties and applicant attorneys."