Progressive Corp. says it sustained catastrophe losses of about $55 million in October due to Superstorm Sandy, but net income for the month increased 37 percent compared to the same month last year.
Net premiums earned were up 9 percent in October to about $1.58 billion, and net realized gains on securities increased 131 percent compared to a year ago.
Progressive says much of the $55 million in Sandy catastrophe losses—about 80 percent—come from claims in New York and New Jersey.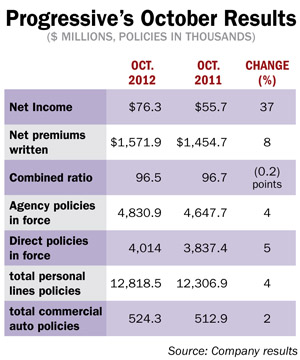 This year may have been a lower catastrophe-loss year than 2011, but Progressive reports year-to-date catastrophe losses of $230 million, compared to $204 million last year.
Year-to-date net income for the Mayfield Village, Ohio vehicle insurer as of Oct. 31 is down 10 percent to $729.5 million. Total expenses thus far in 2012 are up 10 percent.
The insurer's direct policies-in-force increased 5 percent in October, compared to the same month in 2011. Agency-driven policies-in-force rose 4 percent.
Progressive today also announced the expansion of its Pay As You Drive insurance discount Program, Snapshot.
Drivers in Illinois will be able to test Snapshot, even if they are not Progressive customers.
After 30 days drivers there will be able to see if they could save money with Progressive, but there is no obligation to switch.
In a statement Richard Hutchinson, general manager of usage-based insurance, says more than one million drivers nationwide have participated in Snapshot.
But during a conference call early this month to discuss Progressive's third-quarter earnings, CEO Glenn M. Renwick said the "volume of people actually taking the [Snapshot] test drive has underperformed our internal estimates." But of those taking the test, "a very large number of them are actually getting the opportunity to get a discount off of what our rates otherwise would have been."
The insurer is planning a new campaign to educate the consumer about Snapshot and the opportunity to test the product, Renwick says.