Catastrophe modeler Eqecat has updated its insured-loss estimate for Superstorm Sandy—and if the firm is correct, the storm will be known as one of the five costliest U.S. hurricanes.
Eqecat says insured losses will total $10 billion to $20 billion, which could make Sandy the third-costliest U.S. storm ever for insurers—behind only 2005's Katrina ($46.6 billion) and 1992's Andrew ($22.9 billion).
Any actual insured loss within Eqecat's new range would make Sandy one of the Top 20 global natural catastrophes since 1970.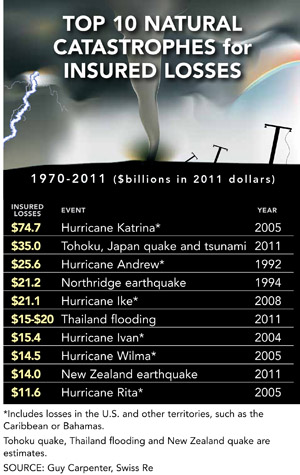 Total economic damage from Sandy will be in the range of $30 billion to $50 billion, Eqecat says.
The latest estimate doubles Eqecat's pre-landfall insured-loss estimate from Sandy of between $5 billion and $10 billion, with total economic losses of $10 billion and $20 billion.
The firm says power outages are expected to "trigger significantly more insured losses (business interruption) than were expected from a more typical Category 1 storm," and the shut-down of the subway and tunnels in New York City will lead to higher expectations of loss amplification.
Catastrophe modeling firm AIR Worldwide says "Superstorm" Sandy will cause between $7 billion and $15 billion in insured losses.
The estimate includes wind and storm-surge damage to residential, commercial and industrial properties and contents, as well as automobiles. Additionally, the estimate includes additional living expenses and business interruption. It also takes into account demand surge.