Note: Slideshow begins after blog on page 2. Slideshow photos credited to PC360′s Mark Ruquet.
STATEN ISLAND, N.Y.—Like many in our neighborhood of Midland Beach on Staten Island, N.Y., we hunkered down for what we thought would be a long night as we awaited Hurricane Sandy.
We were under no illusions that our home would not take on water. Last year's Hurricane Irene had taught us that. But we thought the worst would be a bit more water than Irene, and we had pumps and a generator in place for that eventuality.
SEE ALSO: Slideshow: Sandy Destruction from the NJ Governor's Office
I went outside numerous times to inspect the area, and after 8 p.m., I took a walk to see if any water was going to come in anywhere.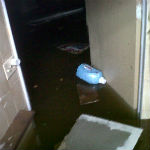 As I walked back to our home I saw water draining down the walkway and found the source to be one of the pumps. Good, I thought. The plan is working.
Inspecting inside the basement, I saw the water that had already gotten in (pictured right). At least everything was raised off the floor.
Looking outside, I saw a police car make a sudden U-turn in front of our house. I decided to make another inspection.
When I went outside, to my shock, I saw a stream of water rushing up the street and I quickly realized this was going to be worse than I imagined.
I rushed back. We hadn't prepared to leave. We grabbed a few things in minutes and ran through calf-deep water to my fiancée's car. I forgot I parked mine closer to the main street where water was streaming in and it was too late to get back and move it.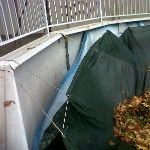 We spent frantic minutes trying to get out. Roads were already blocked off. We ended up at a neighbor's house that was, thankfully, on high ground.
It was a long night watching the water rise and hoping it wouldn't reach higher ground. After the water stopped rising, we returned to our house, or at least as close as we could get to it. Water was up to the top step of the house. My car was not visible.
The following day, Tuesday, the water receded and we got back into the house. We inspected the damage. Water had reached the ceiling in the basement and everything downstairs was destroyed. Outside, we didn't fare much better. The pool was empty of water; the sides bent in (pictured left). The shed was filled with ruined odds and ends we thought would be safe.
The following pages show the flooding and devastation in the surrounding areas that I observed on Tuesday.
Basement and pool photos on this page credited to Josephine Cirmi.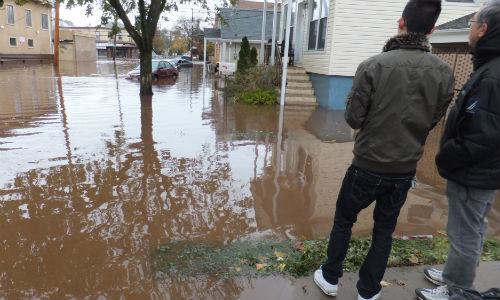 Rescue crews went into the flooded neighborhood by boat evacuating people. Two volunteers say they pulled out about 150 people.
We got a chance to tour the neighborhood. Everywhere we went, people were working to clean up and you could see the force of the water all around.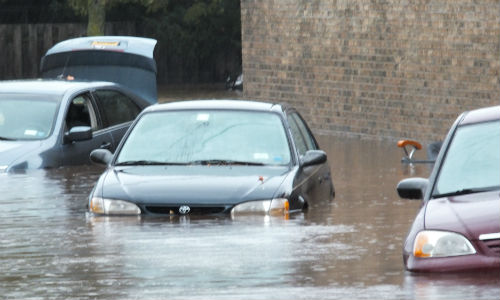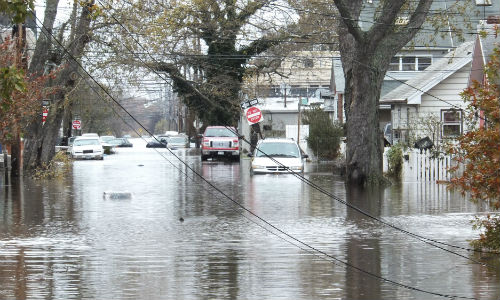 A walk down Greeley St. (pictured above and below) found cars thrown against poles, and debris everywhere. Closer to the shore, people said water got into their basement and reached their upper floor where they were trapped until water levels came down.
Other sections of the neighborhood had to rely on storm drains to take the water out.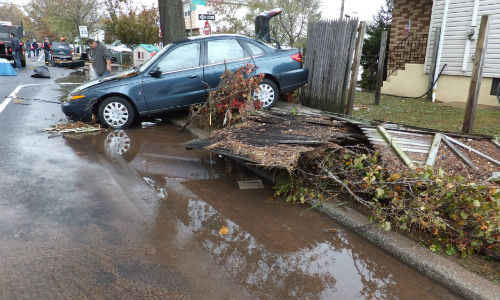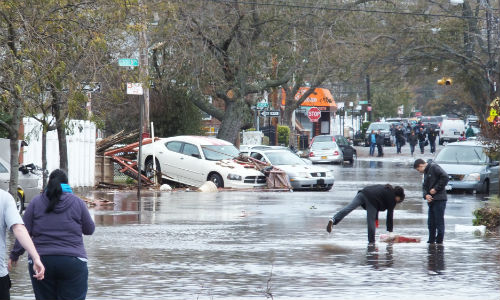 Along Father Capodanno Blvd. (pictured above and below), which faces the ocean, a senior citizens complex bore the full force of the water surge. Other homes had their windows blown out and contents destroyed.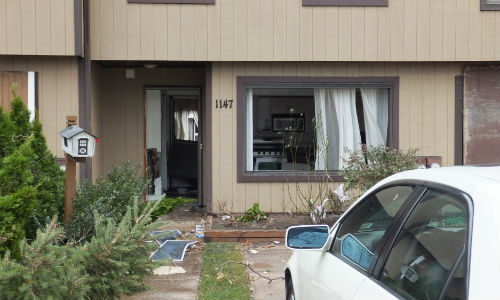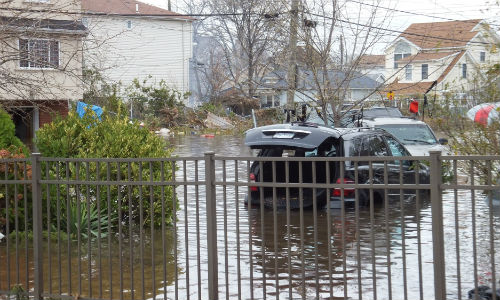 On Midland Ave. (pictured above and below) one structure burned down and what appears to be a house or container had floated out into the middle of the street.
I've been reporting on these events for years. Like many, we failed to heed the advice gained from other people's experience in these disasters. Now we're a statistic, seeking federal help and trying to figure out how to clean up, survive and rebuild. As a reporter, you never expect to become part of the story.