While it is too early to give insured-loss estimates for storm Sandy, Risk Management Solutions says the impact on the East Coast appears much more severe than 2011′s Hurricane Irene. Some coastal areas saw record storm-surge flooding, while strong winds knocked out power to more than seven million customers in 15 states. Following are images of the damage left behind by the storm, which is currently losing strength as it continues to move through Pennsylvania before an expected northward turn into Western New York.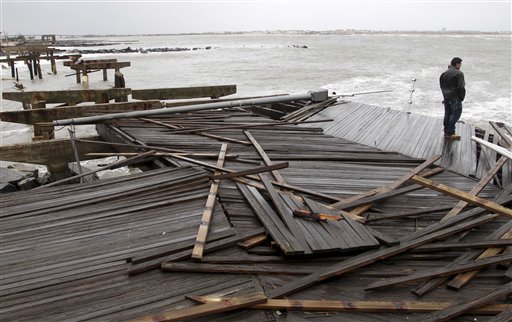 Nicholas Rodriguez looks over a section of the destroyed boardwalk in Atlantic City, N.J., near the area where Sandy made landfall on Monday. RMS says Sandy made landfall at around 8 p.m. Monday as an extra-tropical system with sustained winds of around 80 miles per hour. News reports say about 2.1 million people and businesses are without power in New Jersey. Jersey Central Power & Light alone reports 964,756 customers without power.
Photo credit: (AP Photo/Seth Wenig)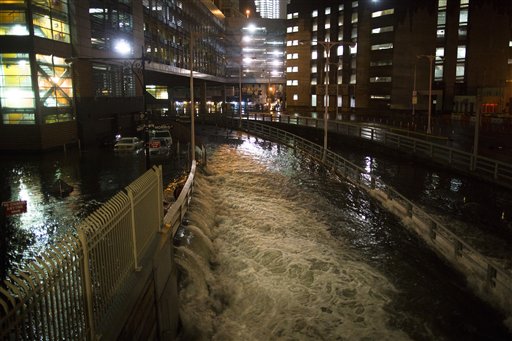 New York City saw record storm surge in some areas. In Battery Park in Lower Manhattan, RMS reports storm-surge measurements of 13.88 feet. In the picture above, sea water floods the entrance to the Brooklyn Battery Tunnel, which connects Brooklyn to Lower Manhattan. Sandy has forced the shutdown of mass transit, schools and financial markets in New York.
Photo credit: (AP Photo/ John Minchillo)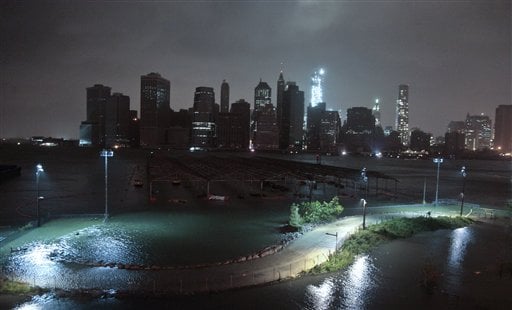 Much of Lower Manhattan went dark during the storm. The above photo was taken on Monday, Oct. 29, from the Brooklyn Heights promenade in the Brooklyn borough of New York. One World Trade Center, background center, remains brightly lit.
Photo credit: (AP Photo/Bebeto Matthews)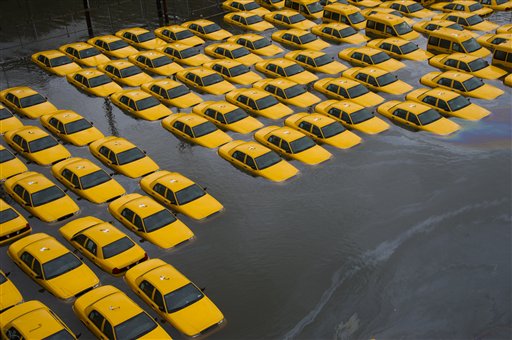 A parking lot full of yellow cabs is flooded in Hoboken, N.J. Hoboken sits along the Hudson River, across from Manhattan, and was subjected to storm-surge flooding that poured into its PATH rail station.
Photo credit: (AP Photo/Charles Sykes)
In the picture above, Elaine Belviso is rescued from her flooded home on Long Island by Suffolk County police after being trapped there overnight. Long Island endured heavy winds and flooding from the storm. The Long Island Power Authority reports that more than 900,000 people are without power in Nassau and Suffolk counties.
Photo credit: (AP Photo/Jason DeCrow)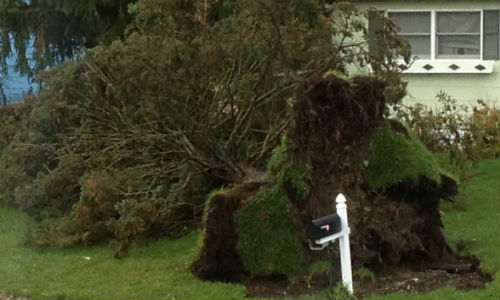 Further north of New York City, in Orange County, N.Y., Sandy brought strong winds that toppled trees but did not bring the inland flooding seen last year during Hurricane Irene. In New York's Lower Hudson Valley, news reports say three deaths occurred from trees falling on houses, and Orange & Rockland power company reports 200,000 customers are without power in Orange and Rockland counties.
Photo Credit: Phil Gusman, PC360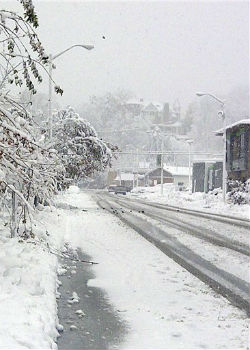 Meanwhile, other areas away from the coast dealt with weather not typically associated with tropical cyclones. In Elkins, West Virginia, pictured above, snow covers the streets. Sandy buried parts of West Virginia under more than a foot of snow on Tuesday, cutting power to at least 243,000 customers and closing dozens of roads. At least one death was reported.
Photo credit: (AP Photo/Vicki Smith)