Workers' compensation rates are the highest in Alaska in 2012, according to a biennial report from the Oregon Department of Consumer and Business Services.
Alaska's average workers' comp premium in 2012 is $3.01 per $100 of payroll. The state took the most-expensive spot from Montana, which dropped to eighth among the study's 51 jurisdictions.
The 2012 nationwide median is $1.88 spent on the coverage per $100 of payroll—a drop from $2.04 in 2010.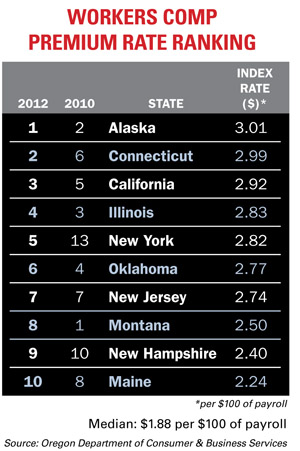 The report was cited by two large workers' comp states—Texas and Florida—but for different reasons.
Texas employers saw a 41 percent decline in workers' comp premiums. The average premium in Texas is $1.60 per $100 of payroll in 2012, compared to $2.38 per $100 of premium in 2010.
The state now has the 38th-highest workers' comp premium rates. It was ranked 12th in 2010. Texas has had the most improvement in premium costs since 2010, according to the report.
The Insurance Council of Texas (ICT) credits the impact of 2005's HB 7, which "directly addressed the problems the workers' compensation system faced," says Steve Nichols, ICT's workers' comp manager, a statement. "The results have been an overall reduction in rates, costs, disputes and claims."
Another state with a big improvement since the last study is Nevada. Here employers now pay $1.33 per $100 of payroll. In 2010 the premium rate was $2.13 per $100 in Nevada.
In Florida, the report provides "further evidence that [the state needs] to be proactive in considering legislative options to keep rates nationally competitive," says Kevin McCarty, Florida insurance commissioner, in a statement.
The commissioner says rates in Florida declined after reforms in 2003, but the trend reversed in 2010. Now cost drivers in the system are contributing to rate increases.
Florida was the 40th most expensive state for workers' comp premiums in 2010. The latest study reveals it is now the 29th most expensive, with an average premium rate of $1.82 per $100 of payroll.
McCarty says the system can be reformed via legislation to address drug repackaging and reimbursement costs associated with in-patient/out-patient hospital care and ambulatory surgical centers.
Washington joins Florida among the states with the most adverse developments since the last study. Washington was ranked the 26th most expensive in 2010, but rose to the 13th spot in 2012, with an average premium rate of $2.11 per $100 of payroll.
Iowa jumped 11 spots since 2010 to become the nation's 25th most-expensive workers' comp state. Idaho is now ranked 19th, from 29th in 2010.