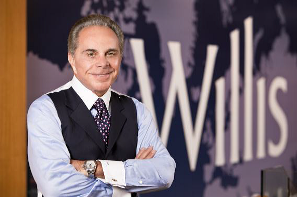 Today's announcement that Willis Group Chairman and Chief Executive Officer Joe Plumeri will be stepping down does not come as a shock to financial analysts, but one analyst says the announced replacement did come as a surprise, and disappointed investors.
Meyer Shields, an analyst with Stifel Nicolaus, points out that Plumeri's contract was set to expire next year. "It is far from a big surprise," he says.
A spokesperson for Willis confirmed that the board has been engaged in a search for a replacement for Plumeri for the past year, but the search was not made public
Willis announced today that Plumeri will be replaced by McKinsey & Company Senior Partner Dominic Casserley, who has spent 29 years at the consulting firm working on financial services.
Shields says he was surprised that the Willis board decided to hire someone from outside the insurance-brokerage industry, especially someone who is not well known in the insurance community.
"He is not on the top of anyone's list of most likely successors," says Shields.
Greg Dickerson, director in the insurance group for Fitch Ratings, says part of the reason the board may have gone outside is because it was "looking for a fresh set of eyes" from outside the industry.
Pointing to "obvious parallels" between Casserley and Aon's hiring of Greg Case in 2005—who also came from McKinsey—Dickerson says the hire is aimed at addressing a myriad of issues dealing with how to expand Willis' revenues in the face of an insurance marketplace that remains challenging in terms of limited growth possibilities.
"Willis may be looking for someone new, with a set of non-traditional ideas," says Dickerson.
Notes Shields, "When looking at the issues there, McKinsey alumni have a pretty good track record of turning around companies that have gotten a little off track, and Willis has gotten a little off track."
The Willis spokesperson says the board "chose the best candidate" and believes "it will have a solid partnership and strong leadership" in Casserley, Plumeri, who will remain as non-executive chairman through July 2013, and Steve Hearn, 46, who will become deputy CEO of Willis Group.
On the news of Casserley's appointment, Willis' stock fell 50 cents, or 1.35 percent, by mid-morning to $36.40 a share. It closed on the day down 48 cents, or 1.3 percent, at $36.42.
Shields says the slide may have had more to do with disappointment among investors who bought into rumors that the firm would sell itself. The hiring of Casserley, Shields says, only confirmed the board's intent that the broker will remain independent.
"Right now, one can infer [from the hiring of Casserley] that Willis is not for sale," says Shields. "Hiring a consultant means that there is something wrong, but to be fair, when you look at the Hanover Group or Aon, [which] were taken over by McKinsey guys, the turnaround was successful."
This story was updated at 4:11 p.m. EDT with stock information.