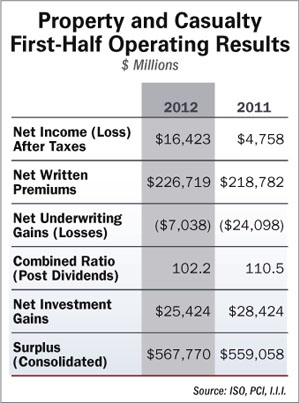 P&C insurers saw their first-half net income collectively jump by more than 245 percent in 2012 compared to the prior year, as the industry benefited from premium growth and a sharp drop in catastrophe losses—but experts have mixed opinions on those figures.
"While insurers' overall results for first-half 2012 are certainly much better than their results for first-half 2011, insurers' overall rate of return remains subpar compared with long-term historical norms—and insurers now need much better underwriting results just to be as profitable as they were in the past," says Michael R. Murray, ISO's assistant vice president of financial analysis.
ISO, the Property Casualty Insurers Association of America (PCI) and the Insurance Information Institute released figures on the industry's first-half performance, finding that net income for the period was $16.4 billion compared to $4.8 billion a year ago. Net written premiums climbed 3.6 percent year-over-year to $226.7 billion in 2012's first half, while net underwriting losses eased from $24.1 billion in 2011 to $7 billion this year.
The industry's combined ratio dropped to 102.2 compared to 110.5 a year ago—but Murray says even though that figure is 1.8 points better than the industry's 104 average combined ratio over the last 53 years, the benefits for the industry are questionable when the figure is put in perspective.
"With investment yields, financial leverage and tax rates like those in first-half 2012, ISO estimates that the combined ratio would have to improve almost 5 percentage points to 97.4 percent in order for insurers to earn their long-term average rate of return," he says.
The industry's annualized rate of return on average policyholders' surplus for the first half was 5.9 percent, up from 1.7 percent last year. But Murray notes that the average over the last 53 years is 9 percent.
Other observers highlighted the positives for the industry, with Robert Gordon, PCI's senior vice president for policy development and research, pointing to the industry's $567.8 billion in policyholders' surplus as of June 30.
"The $17.5 billion increase in policyholders' surplus…is a testament to the strength and safety of insurers' commitment to policyholders," he says. "Despite challenging economic conditions, insurers are strong, well-capitalized and well-prepared to pay future claims. Policyholders and regulators can rely on the insurance industry to fulfill its obligations when catastrophes strike."