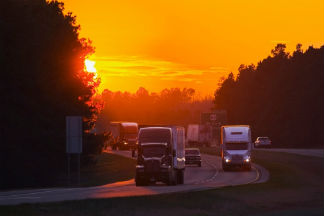 The commercial auto insurance segment recorded its first underwriting loss in eight years in 2011 due to a combination of declining premiums, increasing claims severity and a reduction in favorable prior-year reserve releases, a new report states.
In its Commercial Auto Market Update, Fitch Ratings says the commercial-auto line posted a combined ratio of 103.6 in 2011. Fitch says that, on an accident-year basis and examining only liability for commercial auto, the underwriting losses occurred earlier, beginning in 2009. "The 2011 accident year combined ratio is more than 14 points worse than the cyclical best of 90 achieved in 2004 and 2005," Fitch says of the liability-only data.
Net-written premiums in 2011 were around $21 billion, 21 percent lower than the line's peak level in 2006. "This decline is attributable to years of declining premium-rate trends in a competitive market environment, as well as reductions in insured exposures as commercial auto was significantly affected by the economic recession," says Fitch.
Aside from fewer premium dollars coming in, Fitch says the commercial-auto segment is seeing a decline in favorable reserve development.
Traditionally, Fitch says, the commercial-auto segment is less volatile than other commercial-market segments as commercial auto has more predictable loss costs and a shorter claims duration. "Reserving practices in the commercial-auto segment have proven to be conservative in recent years, as the industry has reported significantly favorable reserve development in commercial auto for the past seven consecutive calendar years…," the ratings agency says.
However, Fitch says favorable development was less pronounced in 2011, and is expected to decline further going forward "as a review of recent accident-year reserve experience reveals somewhat less conservative commercial-auto reserving."
Fitch says accident years 2010 and 2011 are reported to have paid losses at a "significantly faster rate" than both the 10-year average and prior-accident years that developed strongly favorable. "While loss-payment patterns may change over time for various reasons, this may also be a sign that incurred losses in recent accident years are too low," says Fitch.
Still, despite the headwinds, Fitch says the market fundamentals in commercial auto are improving. "The market has responded to this weaker underwriting performance as evidenced by premium rate increases that started in the second half of 2011," states the report.
Fitch expects the rate increases to continue into 2013, but the ratings agency notes that these increases will need to outpace growing loss costs.
"Commercial auto is affected by similar loss factors as personal auto," says Fitch. "Most recently, bodily injury claims inflation has affected automobile lines."
Even so, Fitch says it expects commercial auto to return to underwriting profitability in 2013, if not boasting the low-90s combined ratios achieved in 2004 and 2005.