Domestic surplus lines insurers in 2011 were able to reverse a four-year decline in premiums produced, according to an annual report on the industry.
The report, released by A.M. Best, says domestic surplus lines writers reported a 3.2 percent increase in direct premiums written in 2011, primarily due to lessening competitive pressure from standard-market companies.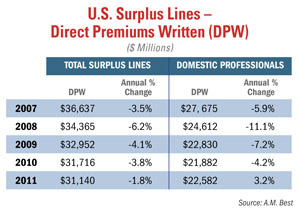 And the trend continued into the first quarter of 2012, with direct premiums rising 7 percent in the quarter, A.M. Best says.
"The industry's improved financial results through the first quarter of 2012 portend that operating results could be better than those in 2010 and 2011," the report says.
However, A.M. Best officials caution, "Market factors still present a considerable amount of execution risk for [property and casualty] companies across the board.
While domestic writers reported an overall gain in written premiums, total surplus-lines premiums declined in 2011 for the fifth consecutive year, as tracked by the National Association of Insurance Commissioners, the report says this trend is "unprecedented over the past two decades."
The decline was 1.8 percent in 2011, after remaining static in 2010, the report states.
The report shows that direct premiums written by non-Lloyds "alien," or foreign insurers plunged 32.5 percent, from $3.758 billion in 2010 to $2.537 billion in 2011.
The report explains that the role non-Lloyd's aliens are playing in the U.S. market is plunging because market conditions have turned more competitive, shrinking available profit margins and making it more difficult for them to find appropriate opportunities to deploy available capacity.
As for particular players, Lloyd's maintained its spot as the leading surplus-lines writer in terms of direct premiums written in 2011, generating just under $5.8 billion in DPW. American International Group was second, with $5.3 billion reported in DPW.
Lloyd's and AIG constituted 35 percent of the industry premiums written, and the 25 largest domestic players constitute 76 percent of the overall market.
In addition, key operating performance metrics for the industry continued to improve and the operating margins of surplus-lines writers compared to standard-market writers increased slightly in 2011 after narrowing in recent years, the report said.
The report adds, "Despite the catastrophic events of 2011, low investment yields and continued competitive pressures, surplus-lines specialists, particularly the market leaders, once again generated considerable operating profits and returns on both revenue and surplus."
At the same time, the report did sound a sobering note, noting that "the persisting malaise affecting the U.S. economy and significant market capacity are two factors likely to limit the possibility of the full onset of a hard market at any point over the near-term."