Jon Beckham, Chief Marketing Officer for Accident Insurance Co.
Years at company: 3
College: University of South Carolina '97
How can employers recruit young talent?
Insurance agencies and companies alike need to promote a positive image of the insurance industry as a valid career choice as well as highlight the various opportunities in insurance, such as sales, underwriting, claims, loss control, etc. Also, I think it is important to get more involved with local colleges and universities through internships or job fairs to expose students to the insurance industry at an earlier stage in their career decision process.
Similarly, how can employers retain young talent?
Corporate culture plays a key role in the retention of young talent. In my opinion, the more engaged a young staff member feels in the overall success of the company, the more committed he or she will be to the organization. Furthermore, on the agency side, the ability for younger producers to obtain a percentage of ownership of their personal book of business or in the agency decreases turnover.
How did you determine that insurance was a viable career choice?
Growing up in an insurance family I realized that insurance is a multifaceted industry with a wide range of opportunities. I also felt it provided a lifestyle that allowed for a balance between work, family and community involvement.
How does technology fit into your work strategy?
Commitment to technology is a must no matter if you are an insurance agency or insurance company. Technology allows for a more fast-paced and efficient work day, quicker delivery and higher expectations to be met. It continues to shape the way in which we work.
Who do you look toward as a mentor in this industry?
There are several individuals in this industry that I highly respect and consider mentors but the individual that I learned the most from was my late father who worked in the insurance industry for more than 35 years.
What are your future goals in this industry?
My current goals are to continue to expand my product knowledge and continue to grow professional relationships.
How do you balance work and personal life?
The balance between work and one's personal life can be a challenge especially as your family starts or continues to grow. We all have a desire to succeed but the important thing is to make sure your success does not involve sacrificing time with your family.
What do you see Gen Y/Millienials struggle with in a professional environment? What advice do you have?
Networking and relationship building seems to be more of a struggle today that it did in the past due to less face to face or personal interaction. My advice to younger staff members is to realize the importance of personal relationships.
Many young agents enter this industry because other family members work in insurance. What advice do you have for working with family?
I was fortunate enough to work with family members for the first ten years of my insurance career. It was an incredible experience but does have its own set of challenges. My advice would be to keep family issues and work issues separate. Also, it is important to treat each other as true colleagues in workplace.
What skills do you think young agents will need next year?
As the market continues to firm, young agents will need to focus on product knowledge and coverages and become true advisors rather than solely selling a price.
What do you see young agents struggle with in their first years in this industry? What advice do you have?
I see young agents struggle with prospecting and cold calling as well as dealing with rejection. I place just as much value in prospecting and account research as I do the sales process. As for rejection, some of my best accounts were obtained the second, third, or even the fourth year that I called on the account, so it is important to continue to cultivate the relationship regardless of the original rejection.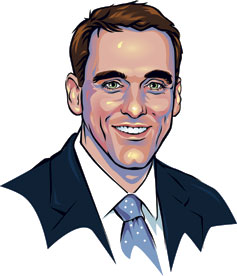 Jon Beckham was featured in the September 2012 issue of AA&B. He is a Chief Marketing Officer for Accident Insurance Co.