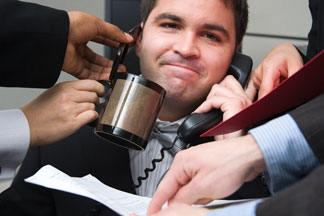 By Anson Thompson, insurance ninja
What seemed like a good idea a few years ago now seems like poop soup.
For the last 10 years of my life, I have been very proud of my ability to multitask: doing multiple things at the same time. But at age 43, I'm starting to really analyze my life and find myself asking, "Is this the best possible way I can live my life?"
The answer, starting with multitasking is, "Hell, no." Doing multiple things at the same time means that you are working subpar on everything that you do. Single tasking–focusing all your thoughts and energies into one agenda item or issue–provides complete focus and clear thinking. I will no longer multitask; I will only single task.
How do I make this change? First, I eliminated the ability of my smart phone to receive email. I no longer have the need or want to constantly look at my phone to make sure that I respond to each request in less than 3 minutes. I have forced myself to only check my email twice a day. I set up my auto responder to help educate my friends, colleagues and clients with the following message:
I recently read a book that changed my life. No longer am I tied to my email, in fact, I only check it once a day. If you need me, call me and let's chat or better yet, let's meet face to face and have an old-fashioned conversation. I'll respond within 24 hours of the receipt of this email, but probably not before. Thank you and remember, less is more.
If someone really needs me they will call me, but if they get voicemail, they can leave a voice mail, but my voice mail greeting now states:
You've reached Anson Thompson of The Thompson Group. If this is an emergency or you need me immediately, please text me. If you have a question or something that can wait 24 hours, leave a message.
I do not check my email but once a day, but I still will check my texts. That is the only line of communication that I allow to "bother" me. However, if I am writing, reading or working on a client file, I will not look at my phone. I simply wait until I am done with my task.
How many times do you sit in a restaurant and watch every couple fixate on their phones? The conversation must be lacking and thus it's easier to answer email. I'm one of those weird individuals who are hopelessly in love with my partner and thus I love not getting my phone out during our focused time together.
If you are happy with your life and the chaos that most of the world is experiencing, keep multitasking. But if you want to slow down, take a breath and remember how to smell the roses and the amazing glass of red wine that sits in front of you. Single task!