Average rate increases for commercial and personal insurance lines continued their upward push through August rising an additional point over the prior month, says MarketScout.
The Dallas-based electronic exchange's property and casualty commercial insurance market barometer puts the composite rate for U.S.-based commercial risks up 5 percent for August. Rates stood up 4 percent for the months of May, June and July of this year.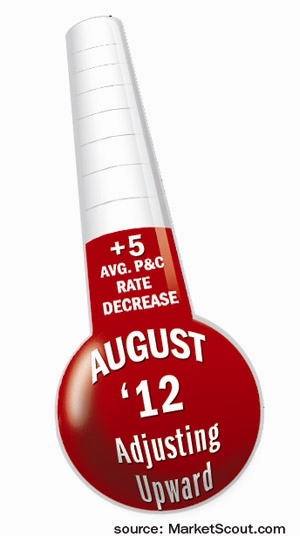 Commercial property rates in the United States were up 7 percent in August—an acceleration from a 6 percent increase seen in July.
Workers' compensation and general liability rates were up 6 percent in August. Rates for directors' and officers' liability increased a point to 4 percent from 3 percent in July. Employment practices liability insurance rates held steady up 3 percent.
Not all lines saw an uptick in rate increases in August.
Commercial auto rates dropped from up 5 percent in July to up 4 percent in August. Rates for umbrella/excess increased 3 percent in August compared to 4 percent in July.
By account size, rates at small and medium accounts were up 5 percent, large accounts were up 4 percent, and jumbo accounts of over $1 million were up 3 percent, says MarketScout.
From an industry class perspective, rate increases in August were led by 6 percent hikes in manufacturing and contracting.
Looking to personal lines, rates in August this year compared to August last year were up 3 percent—an increase from up 2 percent in July.
Insurance on homes valued at above and below $1 million was up 3 percent in August. Auto insurance rates were up 2 percent for the month.