Modest P&C rate increases will benefit the industry more than a true hard market because they are more palatable to clients, says the chairman, president and CEO of insurance broker Arthur J. Gallagher & Co.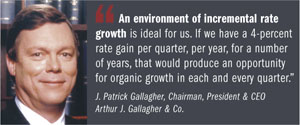 J. Patrick Gallagher also says a continuation of the current conditions, rather than a hard market, will benefit insurance brokers' organic growth over the long term.
During a conference call to discuss the firm's second-quarter results with financial analysts, Gallagher mentioned the latest P&C rate survey from the Council of Insurance Agents & Brokers, which showed incremental increases in insurance premium rates across the board, with some lines—Workers' Compensation, Property, Commercial Auto, General Liability and Umbrella—up by more than 5 percent.
"This is not a classic hard market," he said. "Frankly, that's a very good thing for us, our clients and our markets. We don't want to see 100-percent rate increases and cutbacks in coverage. The industry is not reacting to balance-sheet problems, but rather to income-statement and loss-ratio concerns.
"An environment of incremental rate growth is ideal for us," Gallagher continued. "If we have a 4-percent rate gain per quarter, per year, for a number of years, that would produce an opportunity for organic growth in each quarter."
He also called the current environment "very sustainable" with respect to selling the incremental rate increases to clients rather than asking them to accept steeper increases immediately.
Gallagher added that brokers are taking the carriers' rate increases to clients—and the rates are sticking. When broker representatives tell their clients they have to take rate increases of 4-9 percent, he said, "are they thrilled about it? No. They don't want to see increases; but at the same time, they do understand. And the carriers, I think, are proving that this time around they can get these increases incrementally."
During a question-and-answer session, Gallagher elaborated on his market observations, saying the current cycle "is completely different in its feel and its look from any I have seen before, and in many respects that can be a positive thing."
He added, "What we're seeing right now is disciplined management recognizing that, at present rates, with no investment income to speak of, they have to improve the pricing of the product that they sell in the marketplace in order to have any kind of return to shareholders."