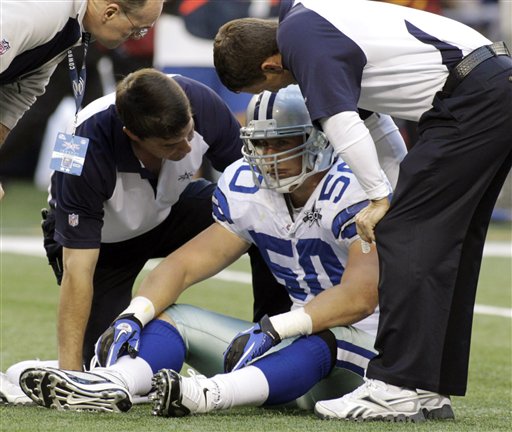 NU Online News Service, Aug. 16, 11:48 a.m. EDT
The National Football League is seeking coverage from insurers that it says have refused to provide a defense as the league faces hundreds of concussion-related lawsuits from former players.
The list of defendants in a civil case filed Aug. 15 by the NFL and NFL Properties in California Superior Court includes companies from insurance groups such as Chartis, Chubb, Fireman's Fund, Travelers, Hartford, OneBeacon, Ace, Allstate, XL, Tranatlantic, Crum & Forster and Alterra.
Earlier this week, Alterra filed court documents in New York asking a judge to declare that the insurer has no duty to defend or indemnify the professional football league.
The NFL says it seeks to recover more than $5 million in attorneys' fees and other costs it has already spent in defense of numerous lawsuits from thousands of formers players and spouses alleging they suffered neurological damage from head injuries as a result of neglect and fraud by the league.
Furthermore, the NFL also wants a judge to say the insurers need to meet obligations to defend the NFL in current and future lawsuits.
Lastly, the NFL seeks a declaratory judgment that its umbrella and excess insurance providers also need to provide a defense for the league.
Currently, says the NFL, insurers providing general liability coverage since or at some point from 1968 to 2012 have "failed and refused to discharge their obligations to defend the NFL and NFL Properties in the injury lawsuits" and "have breached their duty to defend" though it has paid millions of dollars in premiums.
The lawsuit was filed in California because many of the policies were brokered in the state, says the NFL. Plus, since the league currently has three—and used to have four—teams operating in California, and because numerous championship games have taken place in the state, the league believes most of the former players suing the league played in games in California, though many of the suits filed by former players have been consolidated into a single case in a district court in Pennsylvania.
The NFL says primary policies between 1968 and 2012 issued by Chartis, Fireman's Fund, Fairfax, Travelers, Ace, Chubb, Hartford, Crum & Forster and OneBeacon "impose on each a duty to defend any suit against the NFL and/or NFL Properties on account of bodily injury or personal injury covered or potentially covered by the policy, even if the allegations of the suit are groundless, false or fraudulent."
Instead, what has ensued amounts to a "finger-pointing battle" among the insurers, says Joshua Gold, a shareholder in law firm Anderson Kill & Olick's New York office.
"It's a huge fight over allocation," he says. In other words, none of the insurers are stepping up to defend the NFL, likely until it is determined which policies were in effect when the alleged bodily damage occurred.
Gold says he does not know of the specific language in the policies but he "can't think of anything" that would stop an insurer from providing a defense.
It's a shift in litigation strategy lately, says Gold. More often insurers are contesting defense and indemnity coverage before a case begins rather than subrogate after.
And this has been true despite the fact that "duty to defend" has historically been a broad undertaking by the insurer in order to protect the policyholder.
"More and more, the policyholder has to wage that fight," Gold says. "Here we have the NFL waging two liability cases at once."