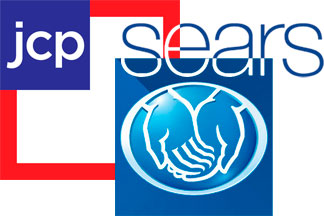 Three old-school brand names made financial news headlines this week, all for the methods they're using to adapt to a new economic reality.
J.C. Penney Co. Inc., the place where mom used to take you to do your back-to-school shopping, reported lousy second-quarter results: comparable-store sales down almost 22 percent, traffic down 12 percent, all leading to a $147 million net loss. Where did they go wrong? CEO Ron Johnson admits they fell down on marketing and pricing.
Sears Holdings Corp., the once-mighty retailer that was at one time synonymous with the Middle American consumer but now struggling for a foothold in a Wal-Mart world, announced plans to spin off its remaining Hometown and certain hardware stores, independently owned venues that offer Sears-branded appliances, consumer electronics and lawn and garden equipment. The move is expected to raise as much as $500 million.
Allstate is seeing online auto policies sold by recently acquired Esurance increase by 13 percent through June 30. The strategy seems to be working: Allstate stock is up 39 percent in 2012.
Behind these headlines lie three very different perspectives on how to reach a more tech-savvy, younger buyer. And the results are extremely mixed.
Penney's marketing campaign "overreached our core customer," CEO Johnson admitted. I have no clue what Penney's customer demographics are anymore, and I get the feeling Penney's doesn't know, either. Earlier this year they rocked the boat by running print ads featuring same-sex parents; and its plans for the department stores feature a combination of the traditional and the wacky. While customers will be able to use mobile checkout in all stores, Penney also seems to be banking on building a bricks-and-mortar atmosphere that sounds like a mash-up of Starbucks, Apple and I don't know what. Johnson said the chain will expand its aisles to 15 feet wide, calling then "The Street" and "creating a place for customers to engage." The Street will feature coffee and juice bars, couches and tables with IPads, and the store's center — called "The Square" — will host activities like Pilates and yoga.
This from a man who admits that the store's second-quarter losses resulted from ignoring the core customer.
I don't know about you, but when I'm in the mood to pick out a package of underwear, I don't want to "engage" with anyone, drink juice or do yoga. I want to pay for my underwear and get the hell out. But maybe JCP's targeted demographic is edgier than I am.
Meanwhile, admittedly stodgy old Sears may have the right idea. By unloading its Hometown stores, they'll still get the revenue from selling Kenmore appliances, Craftsman tools and DieHard batteries, without the overhead of running a franchise.
And then, of course, there's Allstate. The Good Hands' purchase of the digital Esurance brand for $1 billion late last year has stuck in the craw of its agents, who see their clients defecting to the cheaper brand.
On the face of it, Allstate's investment in Esurance seems to be a smart move, at least for the company. Second-quarter net income rose to $423 million, compared with last year's net loss of $624 million due to huge cat losses.
But in 2012, loss trends have worsened at Esurance, and Allstate's big marketing investment in the online insurer means Esurance spent $1.22 for every dollar of premium it collected in the first half of 2012.
Independent insurance agents know all about the risks inherent in "churning" business, a practice that Esurance and other online insurers are learning for themselves.
In its attempts to be all things to all people, Penney's is confusing itself with Starbucks, Sears with McDonald's, and Allstate is hedging its bets between the traditional distribution system, Flo and the gecko.
Freud once famously asked what women want. Old-school brands might ask the same question about customers in general. They might even want to ask independent insurance agents about how they figured out quite a while ago that they can't be all things to all people.