There are certain immutable commonalities that unite people the world over. One is our reverence and childlike glee for Olympic hopefuls and superheroes alike—long after the flame has been extinguished and Hollywood has exhausted a seemingly endless barrage of sequels predicated on graphic novels.
Part of the universal appeal of these modern-day and fictional "heroes" is their capacity for decisive action and excellence. The commonalities between Olympians and superheroes begin to dissipate when you examine their circumstances, motivations, and results. That is, of course, to say nothing of their dramatic intrinsic differences.
Dedication To Excellence
The Olympic Games are great because the nations of the world gather to compete as equals. What sets the medalists apart from the defeated is grace and precision under pressure. By contrast, superheroes may possess incredible strengths and attributes because of dumb luck or overcoming adversity.
Like Olympic athletes, real-life Joes and Janes (those non-elite athletes among us) are capable of excellence and astounding feats when competing for professional supremacy. This plays out in the claims realm when independent adjusters (IAs) must vie for work. Thriving in a feast-or-famine environment requires that IAs be tenacious and resourceful in availing themselves of all possible (formal and hands-on) learning opportunities.
An Educational Arsenal
The demanding job of an IA often does not carry with it the promise of income or benefits. While a profession marred in uncertainty is not for everyone, it does offer avenues for personal and professional development. Both insurance carrier and independent adjusters must contend with emotional stress and volatility, emerging legal exposures, time management, and complex cases that can play out in surprising ways.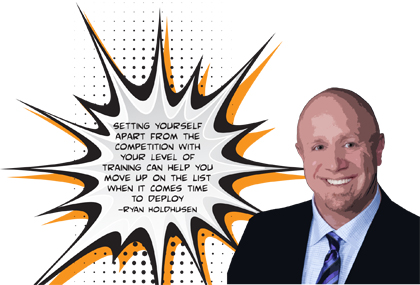 In operating their own businesses, IAs must provide prompt, satisfactory service to meet the expectations of their customers. Supplementing a carrier's customary adjusting staff, individual IAs and IA firms must keep fees must be reasonable, their work exact, all in the face of the rising cost of doing business.
Garnering jobs requires that IAs set themselves apart from the competition. How? By demonstrating a wide breadth of knowledge and training through completing coursework and attaining various designations and certifications. Showing a commitment to the industry and staying abreast of trends and best practices enables IAs to move up on the list of candidates when it comes time for deployment in catastrophes and other situations.
An IA may jumpstart his or her claims career at an insurance carrier that provides regimented on-the-job training, including a primer on various nuances and lines of coverage. This arrangement is not solely advantageous for the "free agents" among us.
"Employers that either require or encourage specialty training or industry certifications will gain confidence in utilizing competent adjusters, who in turn are capable of executing accurate assessments based on hard facts," explains Ryan Holdhusen, vice president of Haag Education, LLC.
Certifiable Prowess
Simply put, embracing—and consequently touting—training acquired during the course of one's claims career enables the adjuster to market him- or herself as a seasoned, well-rounded professional. The proof is also in the pudding, so to speak. Having cultivated an acute understanding of the fundamentals—a natural byproduct from the right combination of education and training—an adjuster can operate confidently when handling an unusual claim.
"Dealing with conflicts or differences of opinion can also be more efficient with an adjuster who maintains certifications," Holdhusen says. The credibility that established certifications bring benefit the overall credibility of the adjuster's findings and skills."
For example, claims managers report feeling more confident in hiring decisions when a given candidate has pursued and attained certifications and therefore seems more "serious" about his or her career path.
Tailored Training
Aside from mastery of claims fundamentals and the business as a whole, Holdhusen emphasizes the importance of specialized training in maintaining a competitive advantage.
"Haag has provided specialized training to the insurance industry for the last 20+ years," he says. "Since rolling our Haag Certified Roof Inspector (HCRI) program in 2007, we have seen a shift in the makeup of our students, from a majority of company adjusters to a majority of independent adjusters."
Holdhusen believes this shift has occurred because of two reasons:
1. Competition. In these hard economic times, when there has not been plentiful storm work for all, IAs are competing with their colleagues for storm work. Certainly a number of factors are considered when a company deploys adjusters to storm duty. Quality training and certifications will give you an edge when being considered for deployment.
2. Many large insurers now are reaping the benefits of having adjusters with advanced claims handling or damage assessment training because of claims being adjusted with the added accuracy, competence, and confidence professional certifications offer.
"Therefore, some insurers are now requiring Haag certification (among others), as well as other specialized training before allowing an independent adjuster to adjust claims on behalf of that insurer," Holdhusen adds.
Mary Anne Medina, an instructor, trainer and consultant at Vale Training Solutions, has observed similar shifts in requirements and the most sought-after training mechanisms.
"There has been a marked increase at Vale in the number of requests for 'tailored' or 'specifically designed' training," she explains. "Companies are recognizing a need to either broaden their client base by offering more in the way of services, such as those that were primarily property adjusting companies now training their employees to handle casualty and liability claims. "They are finding new client companies and training their adjusters to be equipped with the skills, knowledge, and tools to handle the new job demands and a change in the types of claims that they have primarily handled in the past."
"We have even had a request from a TPA to educate and train its employees to handle specific clients and specific client needs, for example claims more specific to grocery store chains, retail markets, the auto manufacturing industry, and others," Medina continues. "This recognition by companies and employers of the need to train their adjusters and claims handlers stems from various sources and perspectives.
"One is that the independents face an enormous amount of competition and they realize the need to give the best service and best product available for client retention and developing new business. It has also been rapidly tracked in numbers that the proper training of adjusters and claims handlers greatly decreases the numbers of claims that ultimately end up in litigation, and as we all know non-litigated claims reduces the cost to the industry significantly."
Shifting Priorities
Medina also says the trend of adopting more robust education programs speaks to a marked shift in strategy.
"With the changes in the economy and companies that have had to reduce costs, unfortunately training became one of the areas most often cut from the budget," she says. "[At Vale] we are beginning to see companies return to an emphasis on training. Many companies are utilizing college graduates for openings in the adjuster and claims handling areas because of the fact that they have the 'tech savvy' skills and abilities. However, many [nonetheless] need the claims, policy and estimating training the job requires."
Another area of growth, Medina says, is in the mentoring programs that companies are structuring to build a stronger adjuster base, relying on those skills and years of experience from within their company or organization.
"These mentoring programs have gained a renewed interest," she says.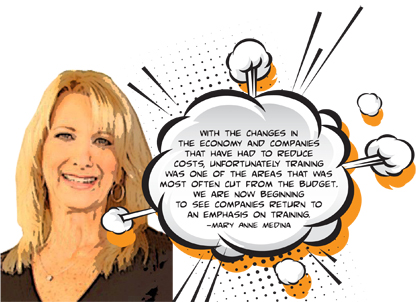 A designation such as the associate in claims (AIC) is still regarded as a powerful tool that puts the credentialed claims professional ahead of others in the competition for the next great opportunity, as it teaches:
How to reduce cycle time and costs
How to bolster customer satisfaction and retention.
How to avoid litigation.
According to Donna J. Popow, senior director of knowledge resources and ethics counsel, The Institutes, completing an AIC program can also "provide a leg-up on other designations, such as the Chartered Property Casualty Underwriter (CPCU)."
"Since there are multiple ways to complete the AIC designation, you can take CPCU courses that will count toward both the AIC and CPCU designations," Popow explains. "Additionally, the courses in the AIC program are qualified for continuing education (CE) credit by all states with CE requirements for adjusters, except Idaho, Iowa, and Massachusetts."
It is evident that education and training will remain a top priority for claims professionals, in light of emerging catastrophes, competition and strict standards and regulations imposed on all adjusters.
"Like it or not, we are a credential-oriented society," explains Kevin Quinley, CPCU, AIC, ARM, principal of Quinley Risk Associates, LLC. "A jumble of initials after one's name does not guarantee competence, but not having them does not inspire confidence, either. It's important to consider continuing education as the independent adjuster's R&D budget. What can management teams do to weave continuing education into the culture of independent adjusting firms?"
Here, Quinley shares seven tips for building a claims culture of continuing education:
1. Bake it into performance reviews. Make continuing education one component of annual employee appraisals. Management gurus from Peter Drucker to Tom Peters have said, "That which gets measured gets done." Therefore, if you want it to get done, then you must measure it.
2. Coach it up. Make continuing education a periodic "coaching topic/opportunity" with reports. Repetition, repetition, rep .. Well, you get the idea.
3. Elevate achievers and make a positive example of them. Publicly recognize and praise those who pursue and complete continuing education.
4. Show the dough. Enact corporate monetary rewards/incentives for CE program completion. Money is still a nice carrot, as is footing the bill for the employee and his or her spouse to attend annual conferment events and conventions.
5. Calibrate workloads to make education pursuit realistic. An adjuster struggling with 250 "heavy" files will not have the time, energy, or inclination to take an AIC or CPCU course. Be sure to monitor caseloads. Keep them reasonable. Allow adjusters time off to take classes, courses, to study and to sit for exams. Additionally, encourage the claims staff to take advantage of company programs that support continuing education. Provide reasonable time and reimbursement support for CE pursuits. Periodically remind employees of the benefits and of ways in which the company supports the effort to build their subject matter knowledge.
6. Make it convenient. Offer CE classes or briefing sessions in-house, on company time. Enlist someone to lead an AIC or SCLA class in a conference room once a week. Be prepared to bring in an outside facilitator if no one in-house can fill the role. Schedule "lunch and learn" brown bag sessions about claims topics. This could entail inviting local defense attorneys, physicians, rehab specialists, fire investigators, and other experts. Provide space and time within your office suite for ongoing claims training and education.
7. Lead by example. Be involved in CE as a "boss" and make sure your reports know that you value the activity. Nothing beats leadership by example. Do you think that because of your title or nice office, continuing education was something that you checked off the list? If you believe it is an "early career" activity—but not something you would bother with at this stage—then think again!
Even the "boss" can roll up those sleeves and dust off the textbooks! When the claims staff sees that the top managers pursue continuing education, they will put stock in the time investment. It sends a powerful message that, "Our culture here involves continuous learning, regardless of your job title."