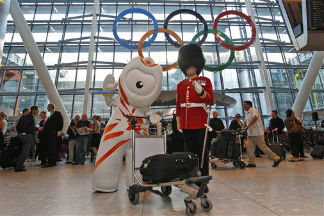 NU Online News Service, July 30, 9:00 a.m. EST
What's so special about the Olympics? For an insurance broker, dispensing with the excitement of the moment, the Olympics are just another sporting event, but on a grander scale, say some experts.
It is a big, exciting event that brings approximately 17,000 athletes from 205 countries together in London for 26 sport competitions that will go on until Aug. 12.
"We look at a lot of different event business, and just because the Olympics are big, it ultimately gets looked at in the same way as small risk business. It has the same parameters. It's in multiple locations in various bits and pieces, but ultimately, it is just an event like any other," says Robert Barron, assistant vice president, accident and health, sports and contingency at Lockton in London.
One thing that differentiates the Olympics from other sporting events is that "it has a fantastic loss history," says Barron. It would take something very significant, such as a terrorist incident, to force the games to stop. And even an event such as that, as the 1972 terror attack at the Munich Olympics demonstrated, does not necessarily mean the games will end.
The unique settings of the Olympic Games are a challenge for insurance brokers—in both securing insurance and understanding the unique risk profile of the individual place—as the games ar held in a different location every four years.
Lori Shaw, director of Aon Risk Solutions' global entertainment group says every Olympic event is unique in terms of geographic exposures—earthquake, landslides or hurricanes—for instance.
For London, she says there is no particular geographic risk, and it helps that it is set in the center of a populated area instead of some remote location.
Another Olympic-sized challenge for insurers is that the games have a lot of stakeholders, says Shaw.
That fact alone brings the issue of capacity to the table, because with so many insureds in one location it can limit the capacity insurers are willing to share on the risk.
"A marquee event like this, everyone likes to have their name associated with it," says Shaw. "But insurers manage their portfolio; no one becomes stupid."
Barron says that because the games are in London, it does make it easier for brokers to place risk in the sense that they are closer to the insurers writing coverage.
"The challenge is the multiple locations [within London] and length of time of the events, it is a big number to bind with billions of dollars to share," says Barron.
"Capacity is always a problem close to the event, and it becomes a challenge," says Shaw. "You pay a premium for it. That said, [insurance] capacity is better now than it was post-9/11 especially on the issue of terrorism."
Insurance broker Marsh, which is handling the risk placement for the Olympic Committee, issued an advisory to any local entrepreneurs involved with the event.
Besides event cancellation coverage, Marsh advises that individuals should secure cancellation and abandonment insurance, non-appearance, prize indemnity, over redemption and contract bonus coverage (which allows an organization to protect their fixed costs when entering sponsorship contracts).
Shaw says that other risks that need to be taken into consideration, besides risk coverage for local vendors and the International Olympics Committee, are the outside vendors and media descending on the event. They too need coverage.
The challenge, she says, is to review the individual's existing liability insurance and determine if it applies under English law, something an insurance broker should be called in to assist with.
She says brokers need to understand their client's entire operation and the exposure to their balance sheet to risk and how that risk needs to be balanced.
Barron underscores the importance of cancellation insurance, something handled by around 20 or so carriers on a global basis. While the threat of cancellation applies to the event itself, there are other vendors that could be affected by such a calamity, such as a travel agency with merchandising interests.
"If the event is no longer there, then they can't sell their merchandise and it becomes worthless," says Barron.
For event organizers, says Barron, cancellation insurance is not just about to providing insurance for the loss of the venue, but to also to assist in securing an alternative location for the show to go on.
One example of this product's importance is last year's Rugby World Cup. It was scheduled for play in Christ Church, New Zealand, when the earthquake struck in February of last year. The stadium was damaged and play could not be held there. Instead of cancelling the event the organizers worked with their broker and insurer to find an alternative location and the games went on. Insurance covered the costs of switching the event, but also made sure the match could go on.
"[Cancelation insurance] is a product that works and that is why people come back and buy it," says Barron. "Anything can go wrong and throw a spanner in the works. Potentially there could be a cancelation, but underwriters will be there with the funds and expertise and the contacts to make sure everything goes ahead. Everyone wants a successful event because that is how event organizers make their money, not by having an event canceled and getting your money back with insurance."