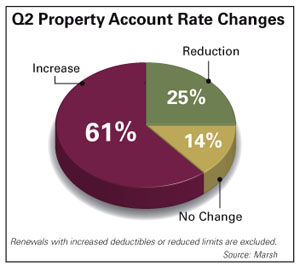 Property rates continued to climb in 2012's second quarter, rising an average 3.1 percent overall and 5.3 percent for catastrophe-exposed risks, according to Marsh's latest Benchmarking Trends report.
But Duncan Ellis, Marsh's property practice leader, says the rate environment is "definitely not a hard market" in the traditional sense of the word.
Marsh's analysis states, "This trend of moderate rate increases is expected to continue for the remainder of 2012 as underwriters continue to use catastrophe models and actuarial formulas to determine pricing and capacity."
The broker says 61 percent of its accounts saw rate increases in Q2, while 25 percent saw rate reductions. Fourteen percent remained flat. Marsh notes that clients who increased their deductibles, reduced limits or restructured their programs in order to avoid rate increases were excluded from the analysis, which takes into account all of the broker's property clients.
While the averages show moderate rate increases, Marsh notes that loss-driven and heavily cat-exposed accounts experienced steeper increases of up to 20 percent or more: "Even considerably cat-exposed U.S. companies without losses generally experienced increases between 10 and 20 percent."
Ellis, in defining exactly what the second-quarter rate movement means in terms of overall market direction, says the current environment can be described as a "market in transition around rate." Rates are increasing, he notes, but there is no capacity crunch that would be expected in a traditional hard market.
Recent reports on reinsurance property pricing have noted that rate increases that were quite significant in late 2011 have now moderated and even flattened out.
Ellis says in the primary-insurance world, prices are still going up, especially on accounts with losses or with cat exposure. But he adds that the rate of increases is "starting to temper a little bit."
Ellis says he expects the rate of uplift to moderate, if not flatten, through the third and fourth quarters this year.