NU Online News Service, July 20, 2:13 p.m. EDT
Three regional insurers say second-quarter catastrophe losses will run into double-digit figures, stemming mainly from 13 weather events throughout the period.
Springfield, Ill.-based Horace Mann Educators Corp. says the impact from weather-related catastrophe activity for the three months ending June 30 will total between $28 million and $30 million, pre-tax. The range includes the estimated incurred losses and loss adjustment expenses from 13 catastrophe events during the quarter, including a stretch of severe weather in the central and eastern United State at the end of June. It also includes hail and other storm activity in late April and May. Last year, the company reported catastrophe losses for the same period of $55 million, pre-tax.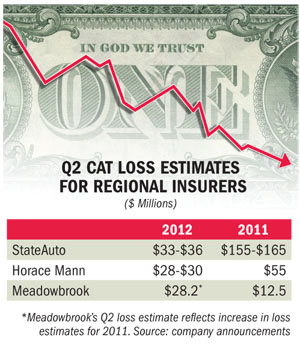 State Auto Financial Corp. based in Columbus, Ohio, estimates its second quarter 2012 pre-tax catastrophe losses will be between $33 million and $36 million, compared to between $155 million and $165 million a year ago. Like Horace Mann, the estimate covers 13 catastrophe events that occurred during the period. The losses primarily relate to two events: wind and hail activity affecting the Louisville, Ky., and St. Louis, Mo., areas in late April, and, to a lesser extent a storm event in the Midwest and Mid-Atlantic states at the end of June.
Meadowbrook Insurance Group says it expects to record a pre-tax expense of $28.2 million for the second quarter. The estimate reflects an increase in net ultimate loss estimates for 2011 and prior accident years, the Southfield, Mich.-based insurer says.
"This increase primarily reflects incurred large loss activity that is higher than historic patterns," the company says in a statement.
The specialty insurer says the losses were from increases in its workers' compensation, commercial multi-peril and general liability, and commercial automobile business. Regarding catastrophes, the company made no mention of 2012 losses, but says increased losses in other lines of business were primarily from 2011 accident-year property exposures that were not reported until the second quarter of 2012.
Last year, Meadowbrook reported estimated second-quarter catastrophe losses of $12.5 million.