In personal lines insurance, there is a heavy reliance on what a new policy system can do for a carrier, but in claims, the approach is different, particularly when it comes to an investment in new claims systems.
"A lot of rules—that's what run claims systems," says Karen Furtado, a partner with the research and consulting group Strategy Meets Action. "There are a lot of reminders, which is why workflow is so important."
Furtado and SMA, through the cooperation of Tech Decisions, surveyed over 300 insurance industry professionals on a variety of claims-related topics and produced a report called: Claims Transformation: Positioning for the Future.
Some carriers with older claims systems are still to get their workdone without the benefit of an imaging system, according to Furtado, a fact that amazes Furtado.
"[SMA] presented at [America's Claims Event] a couple of years ago and there were a number of adjusters in the room. When we asked them if workflow and imaging can help them—which in essence means a complete change of business practice—they hated it," she says. "They wanted the paper folder."
Where Furtado sees the shift beginning to take place for carriers is when they discussion touches on areas such as retention and growth. Furtado maintains those two areas are focal points for delivering customer service and claims, more than ever, is viewed as a customer service area.
"With customer service comes a lot of automation," she says. "You need to have some type of portal to provide agents and insureds claims info. Those areas have not been transparent in the past, which is why automation is beginning to take root and positioning for the future is going beyond the claims transaction itself to combine the agent and third-party networks into the process."
For claims departments, Furtado believes mobile systems will have to spark new investments in technology.
"Mobilehas such a high adoption rate," she says. "There remains some skepticism among adjusters over whether an iPad is sturdy enough to be in the field, but [the adjustors] understand mobile devices can make their job so much easier and efficient. There is less work on everyone's part if they can use a mobile device in the field."
Furtado believes the adoption rate among insurers around mobility for claims is coming at a "lightning pace" when compared to other technologies.
"There are some insurers struggling with it—their sitesdon't work as well when rendered on mobile devices—and they are putting money into the front-end part of the process," she says. "If a carrier is going to have a first-notice-of-loss app you better make it easy for someone to use."
The SMA survey showed claims leadersdon't believe they have their companies supply them with the technology resources they need and Furtado believes the reason for this is simple: "Claims isn't tied to revenue," she says.
For many carriers, IT spending focuses on rates, rules, and forms, according to Furtado.
"IT peopledon't spend the majority of their time focused on claims and that's why some claims people feel theydon't get the attention," she says.
Furtado believes that could be changing, though.
"Looking at the market, I read about a lot of claims projects," she says. "Being able to provide more information when and where it is needed is, to me, the key to claims. Updating systems and higher adoption of workflow and imaging is making the process easier."
While insurers, particularly mid-tier and smaller, are playing catch-up when it comes to upgrading claims systems, Furtado believes the importance of analytics to claims will spark more spending.
"Tier one is in the lead pack because they have been key adopters of things such as predictive analytics, which is tied with the maturity of the organization," she says.
Early adopters of analytics were focused on areas such as market segmentation and rates, according to Furtado, but that is changing.
"Over the last couple of years more insurers are using predictive analytics to assist both in claims assignment and in understanding the risk at a more intuitive level," she says. "Claims with certain attributes can escalate quickly, so carriers manage those with different caseworkers. It's getting the right piece of work to the right person."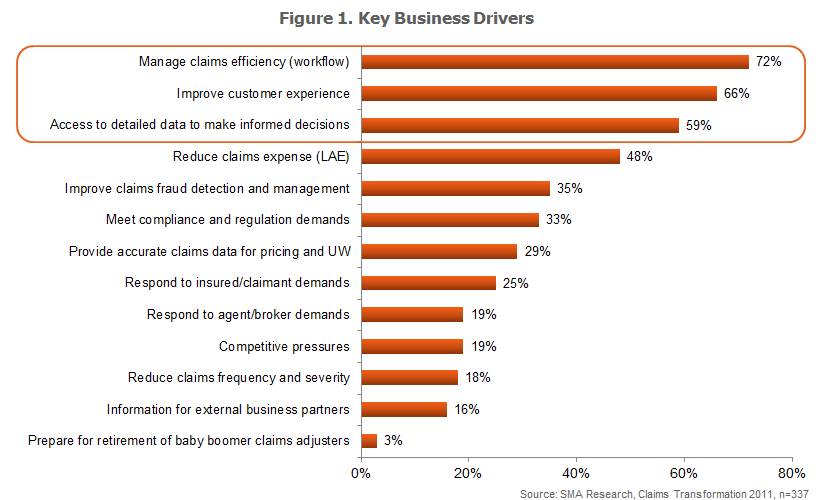 In figure 1, SMA looks at the key business drivers that claims executives see with the top three being workflow, improving the customer experience, and getting access to detailed data to make informed decisions.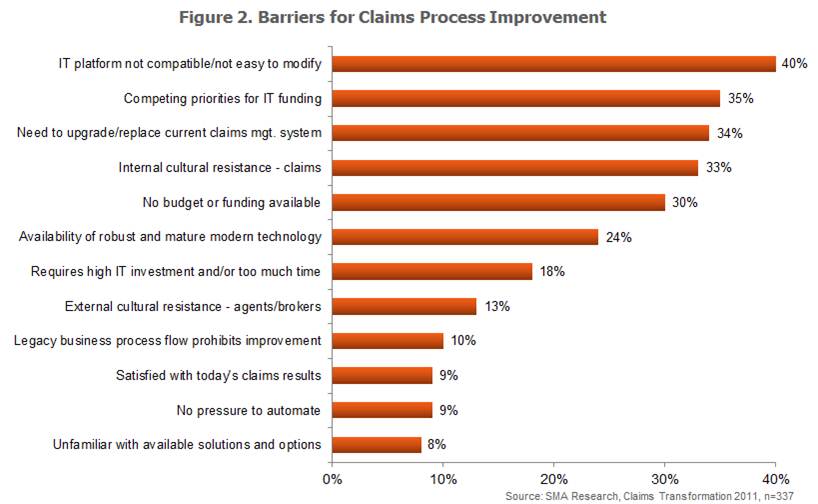 In figure 2, SMA looks at the barriers for claims process improvement and finds the number one barrier for claims leaders is an IT platform that is not compatible or easy to modify.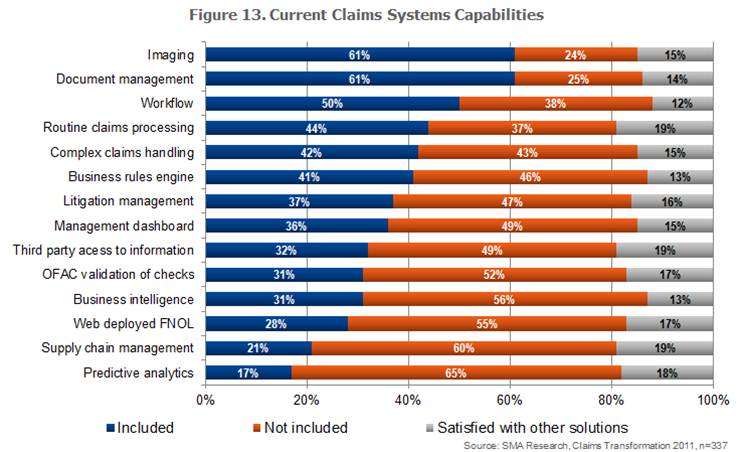 In figure 13, SMA found nearly one in four carriers currently have claims systems that do not offer imaging or document management and nearly 40 percent have systems that don't offer workflow.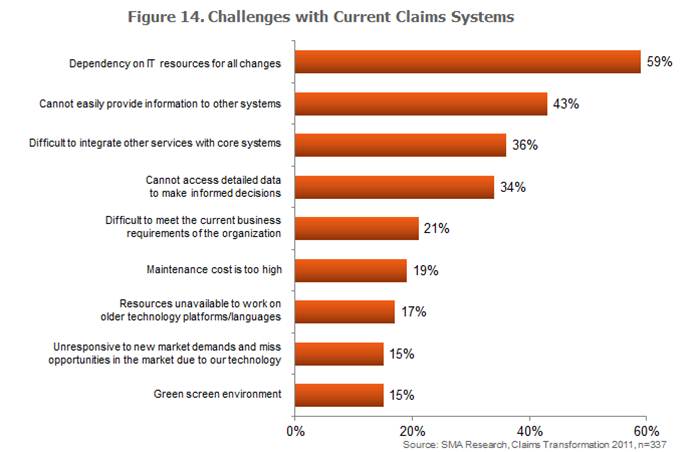 In figure 14, SMA reports that claims leaders have to rely heavily on IT resources for all changes in their systems.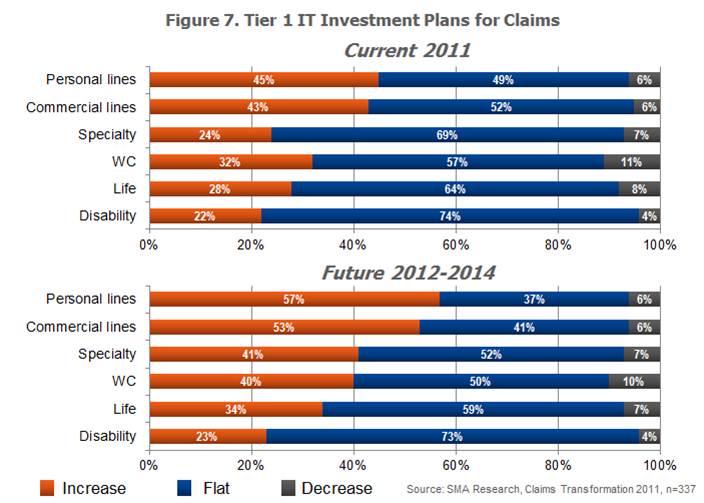 In figure 7, SMA shows that investment plans for claims in personal and commercial lines in 2011 were either flat or decreased in more than half of the carriers surveyed while plans for increases in IT investment over the next two years is expected to rise by double digits.