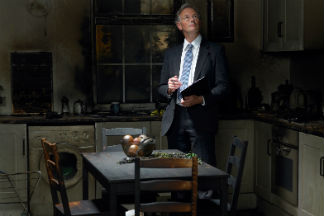 NU Online News Service, July 09, 1:29 p.m. EDT
The Florida Office of Insurance Regulation (OIR) says a recent ruling by the state's highest court regarding public insurance adjusters is not favorable for policyholders.
A three-year battle over when a public adjuster can contact a homeowner after events such as a hurricane, tornado or sinkhole has ended with the Florida Supreme Court declaring current state law is unconstitutional.
Public adjusters were banned from soliciting homeowners for 48 hours after an event.
The OIR says the decision "will have an adverse impact and consequences forFlorida's homeowners."
"This legislative provision was enacted to protect homeowners from additional cost drivers to their insurance rates, including instances of fraud and incentives to increase claim frequency and severity," says the OIR in an emailed statement. "Ultimately, all Florida consumers pay the price in increased premiums when claims are inflated for some policyholders."
The ban on contact by public adjusters was approved in 2008 and challenged by a lawsuit filed against the state Department of Financial Services (DFS) by public adjuster Frederick W. Kortum Jr. in October 2009 on the grounds the law violated his constitutional right to free speech.
The DFS, which licenses public adjusters, implemented and enforced the law.
The Florida Association of Public Insurance Adjusters (FAPIA) countered the OIR's statement by calling the ruling a victory for consumers and saying the law was an "unfair rule that put policyholders at a disadvantage."
While FAPIA says public adjusters exist to make sure homeowners get fair compensation from their insurers, the insurance industry doesn't necessarily see it that way.
"There is no need for a public adjuster—who must be paid by the policyholder," says Samuel Miller, executive vice president of the Florida Insurance Council, a trade group.
Fees for a public adjuster come from the insurance settlement, and that is a problem, says Miller, since many public adjusters inflate claims to cover their expenses.
"We know that goes on," Miller adds. "And the fact is, insurers do a good job fairly settling claims. If there is a problem, the state has an arbitration process. If no agreement is still reached, policyholders can call an attorney."
The OIR adds: "While most public adjusters provide an important service, there are some who will look for unscrupulous ways to subvert the system and take advantage of homeowners when they are most vulnerable following a storm or other event."
The OIR recommends policyholders become familiar with "the correct procedure to follow when filing a claim with their insurer."
Legislators have developed other laws targeting public adjusters, who now face additional scrutiny and limits on commissions after Senate Bill 408 was signed into law in 2011.
Furthermore, homeowners now have three years to file a claim after a storm rather than the previous limit of five years. Insurers say public adjusters solicited homeowners and kept claims from the 2004-2005 hurricane seasons flowing to insurers long after the storms were gone.
The number of public adjusters has skyrocketed since 2004 when there were about 680, according to a report by the state Legislature's Office of Program Policy Analysis & Government Accountability done in 2010.
There were nearly 3,000 public adjusters in Florida in 2009—more than any other state the office examined.
According to the report, California restricts solicitation by public adjusters for seven days after a disaster and it—along with New York and Texas—restrict solicitations during specific hours of the day.