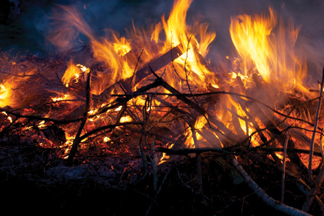 EDITOR'S NOTE: The following article has been contributed by Jeffrey A. Berino CFEI, CCFI, B.S., AAS, Deputy Chief with Colorado's Lake Dillon Fire District, and a senior fire investigator for Pie Consulting & Engineering.
Virtually every federal, state and forest service agency across the nation is forecasting that 2012 is very likely to become a record year for extreme wildfire activity in the western and southwestern U.S., with the future heralding a year-round state of danger. Currently wildfires are burning in nine U.S. states, already inflicting heavy property damage.
Weather pattern influences, including last winter's dry, low snowpack season and abnormally high temperatures contribute to the impending danger. Another contributing factor is that this year's wildfires began before Wildfire Season officially commenced on May 21. In fact, before the end of February a call came in for the first wildfire of the year, which was caused by a lightning strike in the Southwest. Although most of us are looking forward to the monsoons in July for the relief of moisture, we also need to be aware that this rainy season produces hundreds of lightning strikes a day, at least some of which are powerful enough to act as an incendiary for new blazes.
For claims involving fire disasters, it is beneficial to enlist the expertise of a fire investigation professionals in order to process the claim efficiently and expediently.
According to the National Drought Mitigation Center, nearly all of Arizona, California, Colorado, New Mexico, Nevada, and Utah have drought conditions that should persist through at least June/July of this year. Portions of the central Rockies are reporting only five to eight percent of residual snowpack as of mid-June. With wildfires already occurring all across the western U.S., that leaves continually less resources and fewer firefighters to combat the latest breaking firestorms.
"Unfortunately wildfires in Colorado and New Mexico are already reaching historic proportions—burning thousands of acres and hundreds of homes," says Carole Walker, executive director of the Rocky Mountain Insurance Information Association (RMIIA). "With this tremendous potential fire risk throughout the U.S., it is essential for the insurance industry to continue to work hand-in-hand with fire officials and investigators who can help us better understand wildfire risk—both in terms of prevention and what ignites catastrophic wildfires."
The Congressional Research Service also affirms that wildfires are getting more severe, with more acreage and structures burned and more people at risk. This is a result of excess biomass in the forests, which results from past logging and grazing, as well as a century of fire suppression, combined with an expanding wildland-urban interface, meaning more people, homes and other structures in and near the forests. Also liable are climate fluctuations, exacerbating drought, and insect and disease problems. Generally speaking, I see one of two events in old growth, mature forests: they either burn or the bugs get them. In many areas of the west both of these events are occurring, which has a synergistic effect on wildfires and their growth potential.
Significant wildfire potential is defined as the likelihood that a wildland fire event will require mobilization of additional resources from outside the area in which the fire situation originates. With such a potential at hand for this anticipated massive wildfire season, savvy claims adjusters should be informed about the differences between the two main types of fire disaster insurance claims: wildfire and structural fire; both of which require origin and cause investigations.
Determining Origin and Cause
When dealing with a wildfire claim, I encourage insurance professionals and attorneys to work with an investigator who has expert wildfire investigation experience, as there are several specific differences in conducting an investigation of a wildland fire compared to a structural fire. The methodology employed in the case of a wildfire investigation is to begin the study with the areas of the most damage, and progress to the areas of least damage. The opposite is true in a structural fire.
Experienced wildfire investigators will use a variety of methods to determine the origin and cause of a blaze. The fire is broken down into both "general and specific" areas of origin. Advancing patterns, where the fire made a forward run, are marked with red flagging. Lateral patterns near the sides of an advancing fire are marked with yellow flagging, and in cases where the fire backed against the wind or topography, blue flagging is utilized.
Once a specific area of origin is determined via analysis of the flagging, a detailed and often painstaking grid search is conducted using a magnifying glass for close examination of "micro-patterns". In many cases, I also use a magnet in the grid search. During the site examination the investigator not only needs to scientifically rule out many potential causes, but to the extent possible, endeavor to find the exact cause, and prove that it started the fire utilizing this scientific method.
There are also advantages of a team approach to handling wildfire claims and potential subrogation. Analysis of external factors such as multiple ignitions, first responder actions, building code issues, weather influences, code compliance, and potential spoliation are involved, as well as the relevance of RAWS (Remote Automated Weather Station) data and the use of LIDAR (Light Detection and Ranging) technology as it relates to wildfire origin and cause. While it's often important for the investigator of an origin and cause claim to get to the scene of a wildfire soon after its burn, there is also what is called a "cold case" which may be several months old. With a cold case, there can be enough evidence still available that can help attorneys and adjusters produce a substantial argument or defense. Pattern analysis and in particular, "Macro Patterns" such as staining, char effects on larger fuels and beveling/cupping of some fuel types are still present for many months after a wildfire.
Cold Cases
Other factors that can be looked at in cold cases include reviewing weather records, searching for the presence of a variety of viable ignition sources, studying the moisture content in the fuel package, examining the wind speeds and the direction it may have taken the fire, determining the relative humidity at the time of the ignition, and even evaluating the activities of people attempting to suppress it. I have found that cold case investigations, while they present certain challenges, can be successfully conducted, and can turn out to be very beneficial to attorneys, insurance adjusters and subrogation specialists.
It is vital for professionals in this field to gain an understanding of the latest information and cutting edge technologies being used in today's wildfire investigations. The National Oceanic and Atmospheric Administration (NOAA) states "During the January-December 2011 period, 8.7 million acres burned across the U.S. — the third most in the 12-year period of record." Large wildfire claims can involve hundreds if not thousands of parties including multiple public agencies. Unlike most large scale catastrophic events (hurricanes, tornados, hail, tsunamis, floods and earthquakes), wildfires may not be natural occurrences. Because of the vast scope, complexity and exposure of large wildfires, an innovative team approach is necessary to properly handle these events.
During recent years, the dollars at risk on single events can be in the hundreds of millions. Public sector budget short-falls are putting increased pressure on resources for fire mitigation and wildfire suppression. This has resulted in public agencies seeking suppression costs from at-fault parties on larger wildfires. Additionally, some have argued that fewer resources for battling and prevention have resulted in the increased number and magnitude of wildland fire occurrences.
I've often been asked if there is any gratification in my wildfire investigation career, and I have to say that some aspects are particularly rewarding. One is being able to pinpoint the area where the burn started, and even more importantly, the cause of the fire. That is especially significant for future reference in helping to educate all of us to keep from replicating these types of incidences. Hopefully we can use our findings as tools of prevention to avoid future disasters.
At the time of this writing there are multiple major incident wildfires burning in the western U.S. In 2011, Arizona experienced the largest recorded wildfire in its history while in June, 2012, New Mexico experienced the largest recorded wildfire in its history. The third largest wildfire on record in Colorado, including the largest fire on record in Larimer Co. Colorado, has taken one life and destroyed more than 189 structures. Over 60,000 acres have been burned by this High Park Fire, according to the Larimer County Sheriff's Office, and is the costliest fire in Colorado's history. This wildfire, which was caused by a lightning strike, may take weeks to contain and may not be declared officially "out" until the snow flies next fall.
A professional investigator with specific experience in wildfire investigation can be an important asset in a team approach to these complex fires. Determining the origin and cause can be a daunting task at best. The utilization of the correct methodology combined with hands-on experience can often lead to a successful outcome for subrogation issues as well as the prosecution and defense positions in a criminal case.
Jeff Berino has been involved in the wildfire arena for 32 years, garnering degrees in Fire Science and Business Management. As a certified fire investigator and incident commander, he has inspected, examined and combated hundreds of wildfires across North America during the past 28 years. This on-the-ground experience has enabled him to see firsthand the nature and behavior of wildfires. Berino is a Deputy Chief with Colorado's Lake Dillon Fire District, and works as a senior fire investigator for Pie Consulting & Engineering.
Mr. Berino is a court-certified expert in the area of wildfire suppression and cause. He has assisted in the prosecution of criminal cases and has worked for plaintiff and defense counsels, and claims and subrogation staff on major wildfires across the U.S. Contact him at jberino@pieforensic.com or at 866-552-5246.