NU Online News Service, June 22, 2:41 p.m. EDT
Keefe Bruyette & Woods says the property and casualty industry is under-reserved for accident years 2008-2011 and most carriers will see a drop-off in the benefit of favorable reserve development going forward.
Accidents years 2002-2007 remain redundant, according to an update issued by the investment bank, but KBW sees many companies taking reserve charges during the next couple of years.
SEE ALSO: Reports Question Industry's Reserve Strength; Recent Accident-Year Releases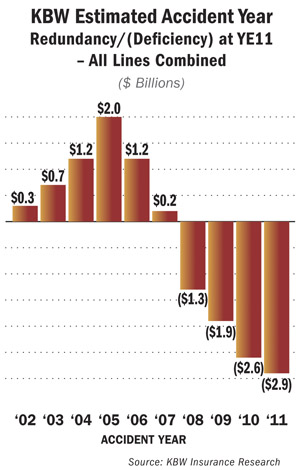 KBW has admitted it was surprised with the strong reserve releases during the first quarter, among the companies it follows.
In the latest update, KBW says the difference between its predictions and actual outcomes can be blamed on the data available and the limitations of its reserving model, adding that a projection on reserves in the future is "very much an art rather than a science."
Some companies will keep booking favorable development to boost earnings, which may "reduce the urgency to seek substantial rate increases now," says KBW.
Looking at some big names in the industry, State Farm and Berkshire Hathaway recorded the most favorable development while Hartford Insurance Group, Liberty Mutual and American International Group Inc. recorded modest adverse development, according to KBW, citing data from A.M. Best Co.
Total industry reserve development in calendar year 2011 was $13.5 billion—the sixth year in a row for favorable development despite KBW's models showing overall reserve deficiencies.
At year end the industry's loss reserves were 0.5 percent deficient, concludes KBW. Weak lines include workers' compensation, commercial multi-peril, product liability and nonproportional assumed liability reinsurance.