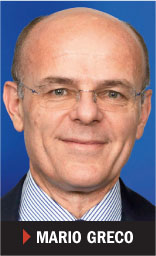 A stockholders' revolt leading to the ouster of Generali Group's longtime chief executive has resulted in Zurich Insurance Group losing its CEO of General Insurance.
Zurich announced June 4 that Mario Greco, who most recently served as head of General Insurance, will return to Italy to assume the role of Generali Group CEO.
Zurich says Greco's departure was immediate and that Zurich Group CEO Martin Senn would head the General Insurance segment on an interim basis until a permanent replacement is announced.
Greco joined Zurich in October 2007 and was appointed CEO of Global Life in April 2008. He assumed the role of CEO of General Insurance in July 2010.
Generali Group is Italy's major insurance company with a history dating back to 1831. Its primary business is on the life side, but it also offers non-life business on a global basis.
According to reports, Giovanni Perissinotto, Generali Group's former CEO, was fighting off a revolt from shareholders and board members over the company's performance. The company has lost 45 percent of its market share in the past 12 months.