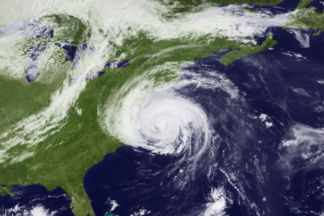 NU Online News Service, June 6, 2:52 p.m. EDT
NEW YORK—New York City could soon be home to the world's longest aquarium—housed in its subway system.
The comment from Nicholas Coch, a coastal geologist and professor at Queens College caused chuckles among the audience at Advisen's Property Insights Conference on June 5.
The fact is, much of his presentation prompted laughter. But although Coch uses plenty of humor in his presentation, the lifelong New Yorker is very serious about the vulnerability of New York to hurricanes, and he has been warning officials for many years.
His warnings at Advisen's conference were to insurers.
"The insurance industry is just headed for bankruptcy," he says, "if you keep doing what you're doing."
His aquarium quip was, of course, referring to storm surge overtaking the subway system. The surge from Tropical Storm Irene nearly entered the subway grates last year—an occurrence that could have had a major impact on the electrical grid, he says.
The water will need a place to go, and it can only move west, into the city. Long Island forms a right angle, making New York "the most dangerous place in the world for storm surge," sending the Atlantic Ocean directly toward much of New York's low-lying facilities and infrastructure—highways, airports and power plants, Coch warns.
New York City's demography and geography are perfect for maximum destruction during a hurricane, Coch adds. And it doesn't have to be what is known as a major hurricane of Category 3 or stronger.
"A Category 2 in New York is equal to a Category 4 in Charleston," Coch says.
New York is low. It was built on rivers, and will be subject to freshwater flooding as well as surge from the ocean. The valuation of potentially-affected structures is very high and its tall buildings will bear the brunt of stronger winds. To get rich, Coch advices, "buy plywood futures" before a hurricane hits New York.
New York is "headed for disaster," and Coch thinks the city is due. When it happens, the industry will truly be tested because the U.S. has yet to see a major hurricane hit a major city.
"You're focused on frequency when you should be focused on the consequences," he says. "Companies don't do homework. Do good science. Sooner or later we're going to run out of luck. "
The New York City area hasn't been hit by a hurricane since 1938. Before that the city saw hurricanes in 1893 and 1821. Coch says this is more proof a significant storm is in the city's future.
"It's going to happen, by the law of averages," he says.
According to a new report from CoreLogic, the New York metropolitran area leads other metro areas in the highest number of properties, the highest total value, and the highest average value per property at risk of storm surge.
Howard Botts, CoreLogic vice president, says Hurricane Irene prompted the analtyics provider to highlight storm-surge exposure throughout the United States.
"The summer of 2011 gave us some startling insight into the damage that even a weak storm can cause in the New York City metro area," Botts says. "Hurricane Irene was downgraded to a tropical storm as it passed through New Jersey and New York City, but the impact of the storm was still estimated at as much as $6 billion."
CoreLogic's analysis finds that more than 455,000 properties in the New York metro area could be affected by storm surge from a hurricane of any strength. The total value of these properties is more than $168 billion, with an average value of $369,178.