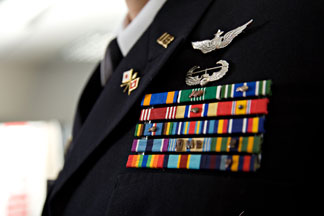 By Kevin McPoyle, CIC, president and co-founder, KMRD Partners, Inc.
Paul Rieckhoff, founder and executive editor of Iraq and Afghanistan Veterans of America (IAVA), recently reported that 17 percent of returning veterans are out of work. This is more than twice the national unmployment average of 8 percent. What's worse, the national average is nearly twice what it was before the 2008 financial crisis.
As of Sept. 11, 2011, more than 2 million men and women have served in Iraq and Afghanistan. These people return to America as members of a uniquely cohesive, dedicated and skilled team. Just as prospective employers eagerly look forward to recruiting graduates of elite educational institutions this time of year, in my opinion employers should consider returning veterans with even greater anticipation.
As a veteran myself, I can personally vouch for the contribution these men and women can make to the workplace—to our industry and any industry. The skills developed and the ethos practiced in the military are universally deployable to workplaces across America, to help build individual businesses and fuel our economic recovery.
This is what you get when you hire a veteran:
1. Teamwork: Although the letter "I" appears three times in "military service," all branches of the military train their members to be part of a team. Young men and women may enter the service as "self actualizing" Millennials, but before long they are fully committed to the well-being of the men and women standing beside them. This highly evolved commitment to teamwork is crucial to the success of companies in all areas of the economy, including the insurance industry. All team members must be all in, or the competition will root them all out. If you want commitment to outcomes, hire a veteran.
2. Dedication: Men and women serving our nation in the military are dedicated to serving something greater than themselves and to each other and to the mission. The laser-like focus of accomplishing all three of these commitments is what makes veterans great to work with.
In the insurance agency business, we depend upon the efforts of employees who dedicate themselves to the goals and objectives of the clients they serve. While the decisions our employees make are not life and death, they do affect the very survival of their clients' businesses. One missed coverage or failed communication may be all that stands between what we call "normal" and "one minute from normal." If you want someone to work tirelessly and to believe in your goals, hire a veteran.
3. Training: Long gone are the days when anyone can sell anything with only a smile and good people skills. Today, every employee must embody and espouse the passion of an expert. The development of expertise is complex and requires steadfast concentration.
In today's military services, there are no easy answers. All aspects of service from local customs to weaponry to people management require extensive training. A returning veteran brings this training and learning discipline to the workplace. If you want a "coachable" employee, hire a veteran.
4. Discipline: Sales staff, in particular, require a disciplined approach to their work to be successful. For every new business "win" they will suffer dozens of "losses." Veterans as a group have been molded to accept an occasional setback and continue the mission to completion. Adaptable, committed to success and needing little top-down instruction, veterans make great professionals in any field. If you want a self-starter, hire a veteran.
5. Results: There is no "could have, would have, should have" in the military. If you want actionable results, hire a veteran.
To source returned veterans, contact your local USO and service organizations. Following are a few additional recommendations:
Powered by NRD.gov, the Veterans Job Bank provides veterans with a central source for identifying veteran-committed employment opportunities and assists companies in identifying qualified veterans.
The Veterans Job Bank returns job opportunities based on search criteria entered by the job applicant. Powered by a Google search, jobs are drawn from various job boards that have posted or specifically tagged jobs for veterans.
To learn how your firm can add your job listings to the Veterans Jobs Bank, visit the "Instructions for Employer Participation" page.
The National Resource Directory (NRD) has also created the Veterans Job Bank widget. This utility allows veterans to conduct a job search without leaving your website. You can get the Veterans Job Bank widget for your website by visiting the "Job Search Widget" page.
Read related: "Flipping the Switch."
Read related: "Can the Industry Unite on Recruitment?"