NU Online News Service, May 11, 11:01 a.m. EDT
Leading U.S. homeowners insurers recorded combined ratios well over 100 in 2011 due mainly to storms throughout the year, according to an SNL Insurance analysis.
According to SNL data, the industry's homeowners insurance combined ratio for the year was nearly 122, up from 106.5 in 2010. The top-20 homeowners insurers recorded a combined ratio of just under 121 in 2011, and none of the top-20 insurers had a combined ratio under 100.
American International Group, ranked 11th for homeowners insurance based on direct premiums written, had the lowest homeowners combined ratio of the top-20, coming in at 105.5. Erie Insurance Group, ranked 15th, had the highest combined ratio at 152.3.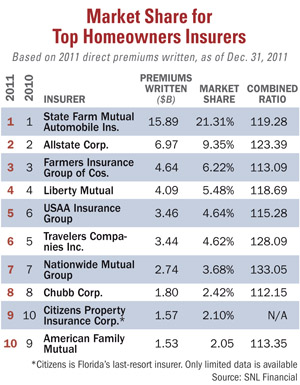 In a Swiss Re ranking of the top-10 costliest disasters of 2011, severe U.S. storms accounted for half of the year's events. April 22 storms that mostly affected Alabama placed highest among the U.S. storm events with $7.3 billion in estimated insured losses, good for the fourth-costliest catastrophe of 2011. The storms beginning on May 20 that spawned the Joplin tornado days later placed fifth on the list with $6.7 billion in estimated losses.
Three other storm systems in April accounted for the 8-10 spots on the list.
As far as direct-written-premium growth in 2011, Florida's last-resort insurer, Citizens Property Insurance Corp., saw the largest year-over-year premium growth among the top-20 insurers, far outpacing any other company with a 35.5 percent rise in premiums written, according to SNL's data. Citizens was ranked 9th for direct written premiums, up from 10th in 2010.
Among private insurers, Erie showed the most growth in premiums, up 9.87 percent, followed by 4th ranked Liberty Mutual, with premium growth of 9.61 percent and 13th ranked Auto-Owners Insurance Co. with premium growth of 9.33 percent.
At the other end of the spectrum, 19th ranked Allianz SE saw a 10.84 percent decline in direct-written premiums.