Amy Bryan, agency owner at Bryan Insurance Agency
Years at company: 6
College: SUNY Oswego '03
Organizations/accreditations: member of PIA & NY Young Insurance Professionals; Immediate Past president for NYYIPs; Part of the New York Central Mutual Agency Advisory Council & the PIA Agents Advisory Council; member of Lions Club in Cornwall, NY; working towards my CIC designation
Who is your primary contact at your top 3 insurers? How often are you in contact with them? My primary contacts at my top insurers tend to vary but have a common thread between the three. The top ones are the ones that have open communication between my agency, the territory sales managers and the underwriters. Communication varies by companies and even people. Some communicate better by phone while others are by email. I think that it is important to find what works best with the companies or the individual. My territory sales managers and sometimes underwriters will also come to meet my agency in person which I think works great in putting a face to the person who you are speaking with and strengthens the relationship you have with that company.
Have you ever experienced any "generation gap" issues with your carriers? Not really. I think the carriers now are looking to a broad spectrum of agents for feedback. Also, when I am looking for carriers to work with, it is important that we fit with them as much as they fit with the agency. It's about a collective partnership between us and the companies.
How does technology fit into your work strategy? Having two office locations, technology is a huge part of my work strategy. We are a paperless agency and utilize headsets, dual monitors and a phone system within the offices to make it easier on staff and clients. I'm also constantly on my BlackBerry and have a laptop that I usually carry with me to meetings or between offices. We also utilize social media to market ourselves. For us, technology is one of the many tools that I use here to help us reach our clients and communicate easier.
What's your mantra for success? I have a lot of things that keep me going, but I would say that in business, success comes from learning. No matter how successful you are, you can always learn more and make things better. I learn more and read more now than I think I did when I was in school. I love it and am always looking for new things to learn.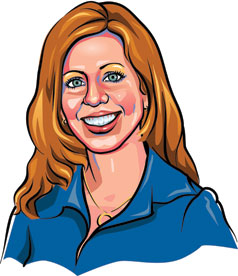 Amy Bryan was featured in the Sept. 2010 issue of AA&B. She is an agency owner at Bryan Insurance Agency.