Rates for primary Directors & Officers Liability insurance programs for public companies in Q1 2012 were up an average of nearly 1.5 percent, after decreasing an average of about 4.3 percent in 2011.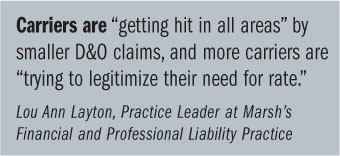 However, the excess D&O market remains soft, meaning rates for a total program—primary and excess layers—are not increasing at the same pace, according to Marsh Global Analytics.
Lou Ann Layton, practice leader at Marsh's Financial and Professional Liability Practice (FINPRO), says the effect of high-severity securities-class-action lawsuits cannot be dismissed as a reason for insurers seeking rate, as settlement amounts continue to grow.
In addition, carriers are "getting hit in all areas" by smaller D&O claims, she says, and more carriers are "trying to legitimize their need for rate." For instance, claims involving mergers and acquisitions may not incur large settlements, but frequency has become a factor in "hitting the primary hard."
Marsh says 38 percent of primary D&O policies saw a rate increase at renewal in 2012's first quarter, compared to 15.4 percent in 2011. About 32 percent of primary policies were renewed at a flat rate during the first three months this year, compared to 22.8 percent a year ago.
However, average and median rates may not tell the whole story, says Layton, because the data "does not say what the client did to achieve the rate." In other words, the statistics do not show what a public company could have gotten if it had shopped.