Kristin Jones, ASLI; associate broker at Bliss & Glennon
Years at company: 5
College: Berklee College of Music '07
Organizations: AAMGA Under Forty Organization
Read Kristin's previous nGI Q&A
Who is the primary contact at your top 3 insurers? How often are you in contact with them? My primary contacts are underwriters. I am in contact with my top 3 company underwriters on a weekly, if not daily basis. We communicate via both phone and email. I also see them at least twice a year, through either office visits or industry conventions.
Have you ever experienced any "generation gap" issues with your carriers? So far, no. The underwriters near my age can be fun and easy to talk to. The more experienced underwriters are kind and incredibly generous with their knowledge. It is the best of both worlds. And all generations know how to use the web as an underwriting tool these days.
How active are your top carriers in attracting and recruiting younger workers? It appears to me that some carriers have been aggressive in recruiting the younger generation. Within our top carriers, I see a serious commitment to perpetuating their organizations to ensure long term continuity.
What's the toughest thing about being a young agent in a field where the average age is 55? The different approach to technology is one of the tougher things in an industry where the average age is 55. The young employee can pick up a new system in hours or minutes. The older employee brings underwriting experience, but often lacks the skills to execute at the same pace and sometimes even resists change.
How does technology fit into your work strategy? Technology is the ultimate strategy. You need good relationships and you need business coming through the door. But if you do not have the technology systems to output a quick, seamless and well-presented product, your business will be rendered powerless.
What's your mantra for success? My mantra for success is to stay curious, embrace change, listen well and be kind and respectful to everyone.
How do you balance work and personal life? At this time balancing work and personal time isn't much of a struggle. I stay until I get the job done and still find time to pursue my hobbies and go out with friends. I have observed others that have to balance family and career but I don't have that challenge yet. Ask me how I'm doing in 5 years.
How does your office reflect how you work? The first thing you may notice about my cubicle is the lack of paper as we have a fully paperless workflow. I have several CPCU and ASLI books on the shelves to remind me to keep studying. There is an iPod speaker for late nights and weekends. Most important are the little notes I have posted to remind me of carrier appetites, commissions and online manual passwords.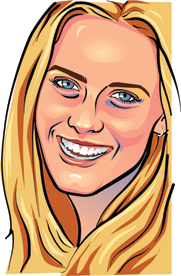 Kristin Jones was featured in the Nov. 2010 issue of AA&B. She is an associate broker at Bliss & Glennon.