Fewer auto-insurance consumers are shopping their coverage today, but those who do shop seem more willing to switch providers than in past years thanks to competitive quotes, says J.D. Power and Associates.
In its 2012 U.S. Insurance Shopping Survey, J.D. Power says 25 percent of consumers shopped for a new auto insurer in the last 12 months, the lowest figure in the past five years and an 8 percent decline from last year's survey.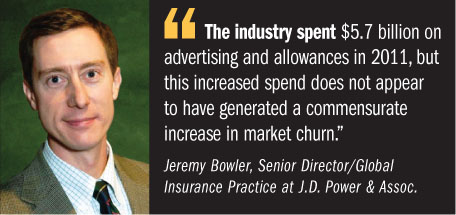 Jeremy Bowler, J.D. Power's senior director of the global insurance practice, says in a statement that customer-retention rates are increasing at a time when auto insurers are spending more money to encourage switching. He notes that advertising expenditures increased 12 percent in 2011 compared to 2010.
"The industry spent $5.7 billion on advertising and allowances in 2011, but this increased spend does not appear to have generated a commensurate increase in market churn," Bowler observes.
Asked by NU why fewer consumers are shopping this year, Bowler suggests insurers may have exhausted the appetite of "serial shoppers." He notes that those who have shopped in recent years on the promise of saving hundreds of dollars might have found such savings initially, prompting them to try again the next year.
However, upon shopping a second time, those consumers may have found that they did not save hundreds more. This, Bowler suggests, may make them hesitant to try shopping a third time.
Bowler also says increasing customer satisfaction could impact shopping habits. In J.D. Power's last auto-insurance-satisfaction survey, overall customer satisfaction with auto insurers was 790 on a 1,000-point scale—a 13-point increase over 2010. When industry satisfaction improves, the rate of shopping tends to decline, he adds.