American International Group's recapitalization efforts have resulted in the insurance giant nearly halving its debt and preferred equity/total capital ratio to 41.6 percent in 2011 compared to 81.2 percent in 2010, according to a Fitch Ratings Special Report on financial leverage for P&C insurers.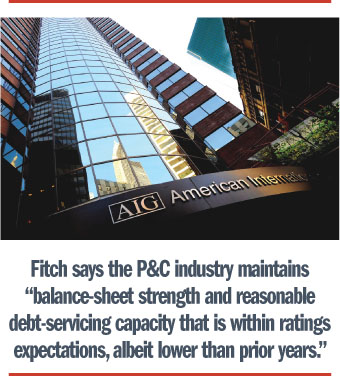 "During 2011, AIG took various steps to recapitalize and reduce the federal government's interest in the company," says Fitch.
The three primary factors driving improvement, according to the report: the repayment of about $21 billion in indebtedness under its Federal Reserve Bank of New York credit facility; the conversion of about $72 billion of government-owned preferred stock to common equity; and a reduction of AIG's deferred-tax asset valuation allowance by $16.6 billion.
Overall, P&C carriers in Fitch's universe show a drop in total debt and preferred securities/capital to 23.5 percent in 2011, compared to 36.4 percent in 2010. Additionally, the insurers' financial-leverage ratio slipped to 22.7 percent in 2011 from 29.9 percent in 2010.
However, excluding AIG, Fitch says insurers and reinsurers in its coverage universe saw average financial leverage increase modestly in 2011, "as higher borrowings offset anemic growth in shareholders' equity due to weak earnings."
Fitch says the P&C industry maintains "balance-sheet strength and reasonable debt-servicing capacity that is within ratings expectations, albeit lower than prior years." Catastrophe losses, competitive markets and weaker investment income drove the decline, Fitch says.
Excluding AIG, the P&C industry's total debt and preferred securities/capital in 2011 was 24.4 percent, up from 23.9 in 2010. The financial-leverage ratio excluding AIG was 23.5 percent, up from 23.1 percent in 2010.
Fitch says it expects favorable movement in the months to come: "Assuming a reversion toward historical natural-catastrophe losses, and with recent favorable premium-rate movement, earnings are expected to noticeably improve and coverage ratios will return to mid-single-digit levels in 2012."