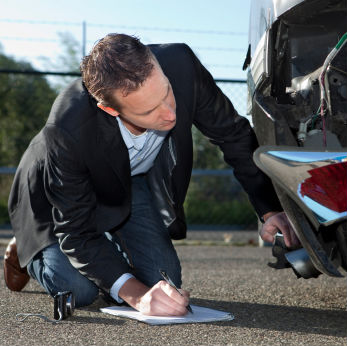 NU Online News Service, April 18, 12:00 p.m. EDT
Customer satisfaction with the auto-insurance claims experience is at its lowest level in three quarters, but, at least in part, consumers may have themselves to blame.
According to the J.D. Power and Associates' 2012 U.S Auto Claims Satisfaction Study, overall customer satisfaction declined 13 points to 842 (on a 1,000-point scale) driven by a 19-point drop in first notice of loss—the point at which a customer first tells his or her insurer that there is damage to the vehicle.
Satisfaction in service interaction declined 16 points and the repair process declined 15 points.
However, customers' own preference has a lot to do with their satisfaction. While they are not pleased with the amount of time it takes to get their vehicle back from repairs after an accident, 47 percent of claimants say they delayed dropping off their vehicle at the body shop to wait for a more convenient time. And 20 percent indicated they waited for the weekend or a holiday.
"Many times the car is still drivable, so they wait," says Jeremy Bowler, senior director of the insurance practice at J.D. Power and Assoc. "The problem is that skews how long it takes to get their car back from the point at which they report damage."
These customers tend to have a lower satisfaction of the claims process "as a result of having to wait an extra day and a half, on average, to get their vehicle to the shop [after an appraisal] compared to results from the prior quarter," adds Bowler.
What can an insurer do when a customer may be influencing the claims repair cycle time—which has increased to 15.8 days in the first quarter this year compared to 15 days in the fourth quarter of 2011?
"Insurers need to do a better job of managing customer expectations for claims processing and vehicle repair," Bowler says.
Explain the consequences of waiting longer to drop off a car to the shop. Tell the customer why it's sometimes better to wait longer for a good job to be done, rather than a rushed job, says Bowler.
Repair times also increased slightly compared to the last quarter, adds Bowler. Insurers must rely on partners, like a repair shop, as the point of contact with customers.
"When the customer thinks the cycle takes too long, they blame the shop, but hold the insurer responsible," Bowler says.
The study is based on responses from more than 3,700 auto insurance customers who filed a claim with the last 6 months. It measures first notice of loss; service interaction; appraisal; repair process; rental experience; and settlement.
Settlement is the most important factor is overall claims satisfaction, but it wasn't one of the factors that experienced a significant decline in the latest study.