Fifteen suspects accused of using food trucks to rig more than a dozen accidents are now sampling the cuisine at a Florida detention center.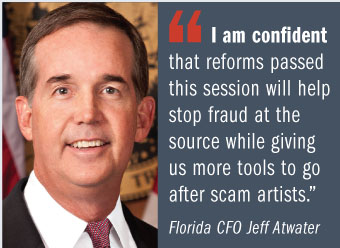 The case is part of a continuing crackdown by Florida CFO Jeff Atwater's Division of Insurance Fraud and the National Insurance Crime Bureau (NICB) to quell rampant auto-insurance fraud schemes that have plagued the state for years—and siphoned funds from Sunshine State insurers and policyholders in the process.
During the course of a two-year investigation, authorities tracked a Miami-based fraud ring whose routes put a new spin on the term "the lunch rush." According to Atwater's office, the defendants allegedly used the trucks to orchestrate accidents for which they filed more than $800,000 in fraudulent property damage and personal-injury protection (PIP) claims.
It is also believed that the vehicle owners enlisted the help of additional participants posing as insureds to set up more than 12 auto accidents between 2008 and 2010. The division recently announced the arrest of 15 suspects in connection with the venture and expressed optimism about the recent legislative developments in putting the brakes on these scams permanently.
"I am confident that reforms passed this session will help stop fraud at the source while giving us more tools to go after scam artists," Atwater says in a press release. "I will not stand by and let these organized crime rings steal [policyholders'] hard-earned dollars."
Under CFO Atwater's leadership, the division has arrested 166 suspects so far this year. In 2011, the unit apprehended 392 for PIP fraud, which signified a 44-percent increase from 2010.