Spokesmen for insurance-trade groups insist that when all is said and done, officials of the Financial Stability Oversight Council (FSOC) will support insurers' view that insurance activities, by their very nature, do not pose a threat to the stability of the U.S. financial system.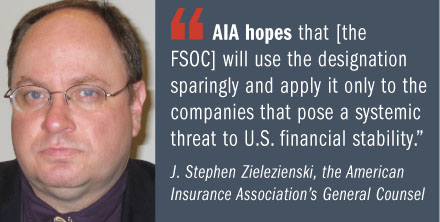 J. Stephen Zielezienski, the American Insurance Association's general counsel, says the AIA believes property & casualty insurers should be screened out of the systemically important financial institutions (SIFI) designation since they do not pose a threat to financial stability.
"AIA hopes that [the FSOC] will use the designation sparingly and apply it only to the companies that pose a systemic threat to U.S. financial stability."
Ben McKay, senior vice president of federal government relations for the Property Casualty Insurers Association of America, says in a statement, "The final FSOC rule takes important steps to recognize that traditional home, auto and business-insurance activities are not systemically important."
McKay adds that the Dodd-Frank Act appropriately treated insurance very differently than other sectors of the financial-services industry.
The final regulation establishes a three-step screening process for determining whether a non-bank such as an insurer should be subject to regulation by the Federal Reserve Board because, under the criteria established under the Dodd-Frank Act, it represents a potential risk to the stability of the U.S. financial system.
Jeff Schuman, a Keefe, Bruyette & Woods (KBW) life-insurance analyst, says the Financial Stability Oversight Council's final rule casts a wider net than expected over those that might get a closer look and takes an "expansive view" of defining a company's debt.
Brian Gardner, also a KBW analyst, says the rule will allow the second and third steps of the FSOC's screening process to provide for a "narrowing from a broad universe, which will create something more manageable for the FSOC to consider."
Gardner cautions that this is "going to be a very long process.
"The SIFI designation will ultimately not be reduced to simple rules and calculations," he adds, calling the process "a fluid exercise, not static. Companies first designated could later be undesignated; this will be a dynamic process."