Nonprofit organizations and charities have distinct needs compared with other sectors of the economy. To get perspectives on the risk management and insurance problems that nonprofit managers face, I turned to several independent insurance agents and brokers who are experienced in the nonprofit market.
Read related: "Nonprofit/Charitable Organizations: Big Business, Big Risk."
It's a small world, and budgets are no exception. Despite the large combined size of nonprofit organizations, most nonprofit entities and charities are small. Overall, about 75 percent of charities that are required to report to the Internal Revenue Service showed yearly expenses of less than $500,000 in 2008. Just four of 100 charities reported expenses of more than $10 million.
Ronald Johnson of Western Dakota Insurors, Inc. in Rapid City, S.D., noted: "Nonprofit organizations generally have low budgets and are tight on money." The proof: Charitable giving fell 3.6 percent from 2008 to 2009, according to the most recent data from the Center on Philanthropy at Indiana University as reported by the Independent Sector, a network for nonprofits.
One broker who works with a number of nonprofits commented that in the face of these budget pressures, some nonprofits are seeking to cut insurance costs with too little regard for the consequences. "We have seen some not-for-profit clients cut the heart out of their coverage and have really had to fight them on some decisions," he said. He suggests that agents and brokers get a careful read on the board of directors. Does it seem to have a good mix of community and business leaders? If so, that's a good indicator that the long-term interest of the organization will be upheld even when the pressure is on to cut cost.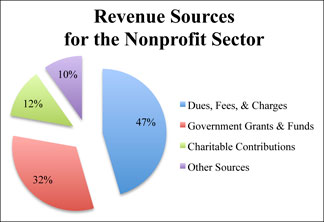 Mission is critical
"In any selling situation you have to understand the needs of the customer and be able to convince the potential customer that you do understand these needs and their business model," said Ralph M. Ricketson, Jr. of McNeary, Inc., based in Charlotte, N.C. "There are some fundamental differences. Nonprofits rank nonfinancial objectives such as compassion, safety, excellence, accountability, innovation, faith, respect, friendliness, etc. highly."
Blind spots and misconceptions
Donna Haynes, CPCU, of Pilkey, Hopping & Ekberg, Inc., Tacoma, Wash., noted that charitable organizations and volunteers often need information about the nature of various coverage forms and guidance on policy selection.
For example, they might mistakenly look to a personal lines umbrella liability policy for the coverage they are seeking. "Personal umbrellas do not provide the same level of protection that is included in a nonprofit D&O policy," she said. "Personal umbrellas typically pay for bodily injury or property damage only." They also often need guidance on D&O issues such the definition of who is insured, and the most appropriate extended reporting period, she said.
The "event"-ual risk
Beware liquor liability. "A not-for-profit will have a fund raiser, selling tickets, which includes providing liquor," said Carole Hartman of Alper Services in Chicago. "In Illinois, this has been construed as selling liquor. Even though a not-for-profit has host liquor [coverage] it is wise to provide a separate liquor policy to ensure coverage."
Read related: "Social Services Profile: First Nonprofit Insurance Co."
Don't miss the miscellaneous
Hartman pointed out various out-of-the-ordinary risks:
Travel accident and foreign liability is a must for entities that offer aid or services overseas.
Miscellaneous professional liability is needed for any organization that offers any type of hotline offering professional help and/or referrals.
"Theft and embezzlement are hazards, but are often overlooked," said Haynes of Pilkey, Hopping & Ekberg.
Special risks
The Corporation for National and Community Service (CNCS) estimated that volunteer time for 2010 was valued at $21.36 per hour. But that time is not free to nonprofits. Volunteers for nonprofit organizations and charities might not get paid, but they do cost.
Bill Yaeger of McNeary Inc. explained: "Many nonprofits have volunteers. The entity may not have considered how they want to cover them for general liability, workers compensation, medical benefits or other benefits. A general liability policy can easily be adopted to include volunteers as insureds, much as it covers employees."
There's an option, though: For a client, Yaeger moved coverage from a self-insured workers comp fund to a volunteer insurance program with medical and accidental death and dismemberment coverage. "We thought it was cost effective and we were able to provide a defined limit of coverage in lieu of broader WC coverage at a higher cost," he said.
Nonprofits have additional layers of volunteer risks
As employers, charities face the usual array of risks, but their board members and other volunteers present unusual risks. "Employment practices liability can include third-party coverage in case some board member or volunteer commits an act such as sexual harassment or discrimination against a third party," said Johnson of Western Dakota Insurors. "This usually comes with the directors and officers coverage at a low premium."
What's worse is that charity leaders may think they are protected without insurance. "At times a lawyer has told nonprofits that they do not need D&O coverage as there are state statutes protecting them. This is true but they generally only do part of the job," Johnson said. "They do not cover gross negligence, fraud or dishonest acts. And who is going to defend them until a determination is made? The directors are putting their personal assets on the line when acting in a voluntary capacity."
Read related: "Increasing Reliance on Volunteers Complicates Insurance for Childcare."
Johnson advised that, in addition to having a D&O policy, the charity's by-laws should include a hold-harmless agreement for the directors and officers in accordance with state statutes.
Ricketson of McNeary said, "D&O coverage for nonprofits is typically broader than what is available to for-profits. For example, the entity itself is covered to a much broader extent. Entity coverage for for-profit corporations is usually limited to coverage for securities claims."
Nonprofit organizations, their boards and volunteers have risk exposures that are much different from those of for-profit organizations. They also need the skillful guidance of an insurance agent or broker to help them understand those exposures, give them the same careful consideration they give all their other expenses in a world of tight budgets, and make the right choices to help the organizations carry out their missions of doing good.