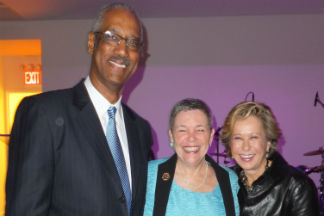 NU Online News Service, March 30, 3:10 p.m. EDT
NEW YORK—Microinsurance is not an act of charity but a business model that can pay insurers real dividends while helping the impoverished climb back from natural catastrophes, says the chairman of America for Swiss Re.
Speaking last night during a benefit gala to honor the reinsurance carrier Swiss Re for its involvement in the microinsurance program run by Fonkoze in Haiti, Walter Bell, chairman of Swiss Re America Holding Corp., representing Swiss Re, says that the economic culture in Haiti posed a challenge to a company trained in writing policies within a complex business environment.
"We view microinsurance not just as a charitable piece of our philanthropy; we view it as part of a core business strategy," he says.
He emphasizes that Swiss Re's work in Haiti developed a new business model to provide property and casualty insurance in developing countries.
The strategic relationship formed between Swiss Re, with its resources, and Fonkoze, which had built the appropriate distribution channels, is a "global-private partnership team" which can link with governments, non-government organizations and microfinance institutions.
"We know that when we help vulnerable communities, we fight hunger, build resistance to climate change, reduce the cost of natural disasters, and get people back on their feet as soon as possible," states Bell, adding that Fonkoze helped entrepreneurs remain solvent after rebuilding their businesses.
Microinsurance and microfinance are programs aimed at providing loans and insurance programs to people in developing countries at a cost that is affordable to them.
Fonkoze, adult education and microfinance provider in Haiti reaches 275,000 families, honored Swiss Re at its 2012 Global Partner of the Year gala for financing and piloting an innovative catastrophe bond product in the disaster-ridden country.
Also honored was Yeardley Smith, American actress known for her voice-over work as Lisa Simpson. She was the recipient of the 2012 Solidarity Award for her work and charitable contributions to the organization.
The theme of the evening was that a sustainable business plan directed by experienced risk managers, not charitable donations aimed independently of one another, can truly help people pull themselves out of poverty in the wake of disaster.
Anne Hastings, CEO of financial arm Sèvis Finansye Fonkoze, notes that Haiti had been hit by an unusually vicious decade of natural catastrophes beginning in 2004 with flooding in Southeast Haiti and four-hurricanes swiping the nation in 2008.
The onset of each event nullified the financial help provided to Haitians by Fonkoze.
"I watched the same person work her way out of poverty three times running," Hastings relates. "She started with a loan of about $30, ended up with a loan of over $1000, and she lost everything."
"After the earthquake, we were ready to begin offering an insurance product that would allow our clients to get the insurance they needed to help them recover," she says.
The program became available shortly after the January 2010 magnitude 7.0 earthquake that destroyed the nation's capital Port-au-Prince. For those participants, it was a blessing because shortly after a torrential downpour flooded the island causing more misery for the populace.
Swiss Re proved its value by paying out more than $1 million in insured losses to participants. It was something Bell calls a rounding error for Swiss Re in terms of losses, but underscored the benefit of the program for those involved.
Under the microinsurance plan, for an initial membership fee of $6 Fonkoze delivered an insurance product that gave one-time cash grants of $125, cancelled a participant's remaining loan balance on the day of the disaster, and immediately offered a new business loan.
According in Hastings, by January of last year each Fonkoze borrower purchased his or her first catastrophic insurance policy for $31 annually that protects loss of property and business merchandise due to hurricanes, wind damage and earthquakes.
Going forward, Fonkoze will continue working with Swiss Re, along with GCM Gallagher Group's risk analytics division Caribbean Risk Managers Limited, Guy Carpenter & Company's GC Micro Risk Solutions, and Mercy Corps, to finance the Microinsurance Catastrophe Risk Organization (MiCRO).
MiCRO is a donor-capitalized insurance vehicle developed by a team of strategic stakeholders to protect entrepreneurs from the economic devastation of natural disasters. It reaches 50,000 clients and promises rapid claim settlement due to disaster through the use of parametric triggers.
Corrected to show that Walter Bell is Chairman of Swiss Re America.