The first estimate for the insured losses from the deadly tornadoes that ravaged the Midwest at the end of Feb. says the storms could generate as much as $2 billion in claims.
Catastrophe modeler EQECAT says the severe weather that formed two volatile weather systems during the period from Feb. 28 to March 3 produced an estimated $1-$2 billion in insured losses. The weather events included tornadoes, hail, and strong winds over an area that covered 12 states, from the Deep South to as far north as Ohio and Illinois, according to National Weather Service (NWS) maps. Most of the more than 150 tornadoes, a preliminary count, occurred in the states of Tennessee, Kentucky, Indiana, Illinois, and Alabama, reports EQECAT.
See related article: 2012 Tornado Destruction in Pictures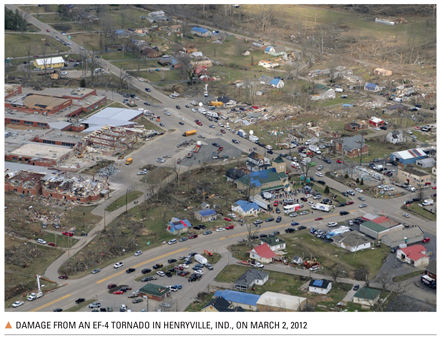 The modeler adds that the storm systems essentially caused a month's worth of tornadoes in just a few days, and that "tornado activity for the year is well above average with 272 tornadoes versus the seven-year (2005-2011) average of 123 (through March 4).
EQECAT says an EF-4 tornado, with wind gusts of between 166 and 200 miles per hour, destroyed 200 homes and businesses in Harrisburg, Ill.
According to NWS, there have been 49 deaths from the tornado outbreaks so far this year. Historically, January through March is a quiet period in terms of tornado outbreaks, while the most active months are April through July. Last year proved a particularly active April with 758 tornadoes.