The first three months of the calendar year are generally a very quiet time for tornado outbreaks. So far, 2012 has been an exception.
According to Standard & Poor's, there have been 272 confirmed tornadoes so far in 2012. The severe weather has destroyed homes and businesses—and in some instances leveled entire towns—throughout the Midwest and South.
With April through July normally experiencing the highest tornado activity, 2012 may prove to be a destructive severe weather year, although S&P notes that basing such estimates on the activity to date may be premature.
Click "Next" to see images from affected states including Indiana, Missouri and Michigan.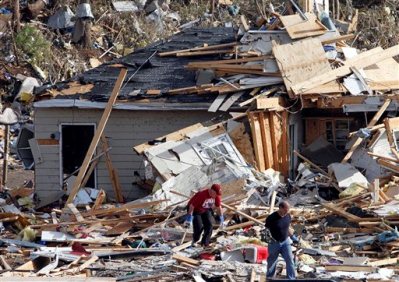 Residents comb through debris looking for personal belongings after a tornado ripped Trussville, Ala. on Monday, Jan. 23, 2012.
Tornado activity started up early in 2012 when a January tornado in the South caused more than $150 million in damages. In Alabama alone, insured losses from a tornado outbreak caused an estimated $30 million in insured losses.
(AP Photo/Butch Dill)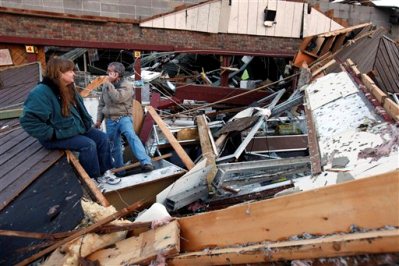 Sherry Cousins and her brother Bruce Wallace of Hollister, Mo., sit in the wreckage of their secondhand store in the country music resort city of Branson, Mo.
Branson was amongst the hardest-hit areas when a total of 14 tornadoes ripped through Oklahoma, Kansas, Missouri, Illinois and Arkansas on Feb. 29, 2012.
The tornadoes on the 28th and 29th killed 13 people and injured more than 200. Aon Benfield says the National Weather Service's Storm Prediction Center confirmed 36 tornadoes in addition to hail and high winds through 10 states.
(AP Photo/Mark Schiefelbein)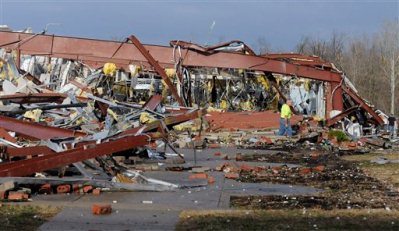 An employee of Henryville High School examines the remains of the building after it was destroyed by a tornado on March 2, 2012, in Henryville, Ind.
Among the storms that hit the Midwest on March 2, the National Weather Service reports a single tornado touched ground through 49 miles from southern Indiana and northern Kentucky. Henryville, one of the hard-hit towns on the tornado's path, was all but completely destroyed.
"It's hard to explain," says Daniel E. Stone, president and chief executive of Indiana Farmers Mutual Insurance Co. "The school they went to is gone. The church where they worshipped is gone."
(AP Photo/Timothy D. Easley)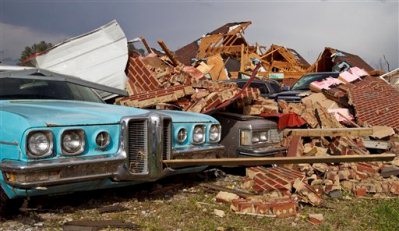 A home is destroyed in Athens, Ala. after a tornado from the same powerful storms that wrecked Henryville, Ind. passed through on March 2, 2012.
Catastrophe modeler EQECAT says the severe weather that formed two volatile weather systems during the period Feb. 28 to March 3 produced an estimated $1 to $2 billion in insured losses. Most of the more than 150 tornadoes occurred in the states of Tennessee, Kentucky, Indiana, Illinois and Alabama, says EQECAT.
(AP Photo/Butch Dill)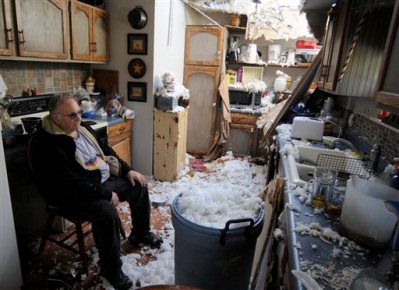 Robert Elliott sits in his damaged kitchen after a tornado struck his home in Harrison, Tenn., March 3, 2012.
January through March is a relatively quiet period in terms of tornado outbreaks. Historically, the most active period is April through July.
(AP Photo/Billy Weeks)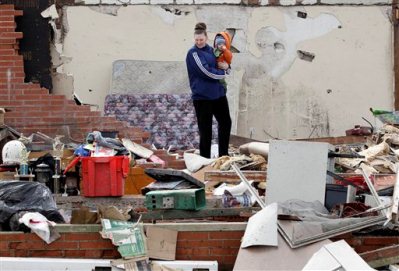 Ashley King and her son Dallas King look around a damaged house after a tornado struck in Marysville, Ind., March 4, 2012. Calm weather gave dazed residents of storm-wracked towns a respite as they dug out from a chain of tornadoes that cut a swath of destruction from the Midwest to the Gulf of Mexico.
(AP Photo/Nam Y. Huh)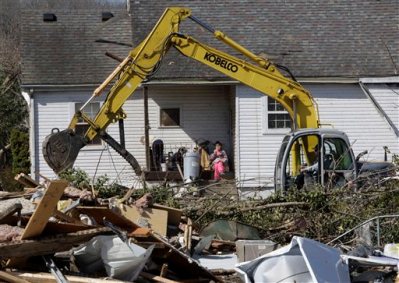 A resident sits on her back porch watching workers use heavy equipment to pick up the remains of a neighbor's home that was destroyed by a tornado on Tuesday, March 6, 2012, in Moscow, Ohio.
Neena Saith, director of catastrophe response for catastrophe modeler RMS says in a statement, "This activity is linked to the combination of record warm temperatures in the region and a surge of moisture from the south."
(AP Photo/Al Behrman)
Katie Cramer looks over the front of her house in Dexter, Mich., March 16, 2012 after a tornado touched down the night before, damaging or demolishing many homes, downing trees and power lines.
More than 100 homes were damaged as three tornadoes touched down in Michigan, but there were no fatalities reported. Dexter was the worst damaged area.
(AP Photo/Carlos Osorio)