A thorough scene investigation of your next fire case may be the difference between a claim being dropped and a claim being litigated. The timeliness of the investigation and methods employed will ensure that all case facts have been uncovered, and that important evidence is preserved.
Early and thorough responses are imperative and will in turn facilitate cost containment; the accurate identification of culpable parties; preservation of evidence; and the identification of frivolous or exaggerated claims.
In sum, thorough fire scene investigations can translate into the ability to make early case decisions that preserve both legal defenses and, hopefully, the bottom line.
Claim Notification = Early Involvement
Consider your next early claim investigation an opportunity to seize control of the investigation by getting involved when the case is taking shape. Early involvement is your best chance to protect your capability to inspect the evidence.
Typically, the first investigators on a scene will be fire officials who suppress the fire, determine the cause, rule out criminal culpability, and ensure the safety of the scene for its preservation or overhaul. Once public officials have released the scene, the property owners, insurers, and experts take control. The insurer or its attorney will then inspect the scene for potential entities from whom the subrogating carrier may recover money paid out to its insured.
If, during the subrogating insurer's inspection, it is determined that your company or client may be at fault, then they are required to preserve the scene and notify you of an opportunity to inspect the scene. Notice from a subrogating carrier—that your company or client may be culpable—should elicit an immediate response, in writing, requesting that you have an opportunity to inspect the scene, and that evidence be properly preserved.
Accurate Facts and Preserved Evidence
So let's say you received notice, requested that the scene be preserved in its current state, and are working to set up a joint inspection; now what? Prepare to go to the scene inspection. Request public official reports, insurer's photographs, research the location, notified parties, and their products.
The claimant's representative should have reports and photos, depending on the size of the loss, from the Fire Department, Fire Marshal, Police Department, medical care providers and perhaps others. In addition, the claimant's representative may have drafted a report or taken photographs during their investigation which they may be willing to share.
Going into an investigation with public reports and photographs in hand will help determine whether the scene has been altered, forecast possible theories of liability, and identify potential witnesses to interview while at the scene. Often, occurrence witnesses, neighbors, or workers are accessible for interviews prior to the filing of a lawsuit at a time when their memories are fresh.
Enlist A Qualified Fire Investigator = A Credible Trial Expert and Advisor
A fire scene examination should be attended by a Certified Fire Investigator (CFI) or a Certified Fire and Explosion Investigator (CFEI), commonly known as" CFIs." The CFI will be the first person to set foot into the scene on your behalf. His or her observations and opinions will shape the way your case is defended. It is advantageous to retain a CFI who is familiar with the public officials, such as firefighters and fire marshals, and the expert for the other parties involved.
A good working relationship between investigators and officials results in the free flow of information and opinions during the scene inspection. Often, investigators share their opinions with one another, thereby providing early insight into an expert's confidence in the subrogee's case against your company or client.
When selecting a CFI, consider their adherence to commonly accepted standards for fire investigations, including: National Fire Prevention Association (NFPA); and American Society for Testing and Materials (ASTM). Those organizations promulgate standards which courts find authoritative when considering the basis for an investigator's opinions. Adherence to NFPA and ASTM standards indicates that the fire investigation was conducted through reliable scientific methodologies and short circuits an opposing attorney's challenge to the validity or credibility of an expert's opinions.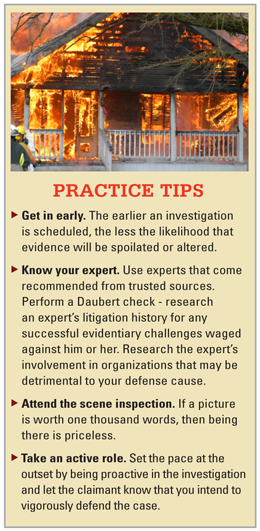 Attend the Scene Inspection = Firsthand Knowledge of the Players and Facts
The scene investigation adds a dimension to the defense of a case that cannot be matched through viewing photographs or reading reports. Only after attendance at the scene inspection can an expert, attorney, or company's representative gauge the dollar amount of the loss, explore external factors that may have played a role in the fire, and evaluate how the experts conduct their investigation.
An accounting of the inspection by a non-expert helps to provide an objective opinion about the confidence of each expert in their respective theory and other defense issues that may arise—that is, contributory negligence and damages inflation by claimant). Finally, a working knowledge about how a fire scene exam is conducted will be of benefit when deposing an expert, negotiating a settlement, or during cross examination.
By seizing the opportunity to investigate the scene, claims professionals will protect against premature and thinly supported liability theories, which may prejudice the defense in the long run. Early intervention will eliminate the possibility that your defense will be built on unsupported theories and insufficient data. With the proper procedures in place, conducting an effective scene investigation is "elementary, my dear Watson."