SeaPass Solutions Inc., a provider of Web-based insurance-distribution solutions to the P&C industry, has introduced a pair of insurance portals—the SeaPass E&S Carrier Portal and the Distribution Portal.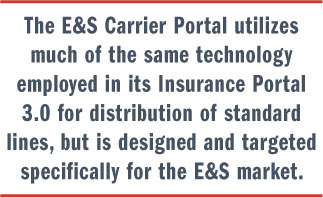 The E&S Carrier Portal utilizes much of the same technology employed in its Insurance Portal 3.0 for distribution of standard lines, but is designed and targeted specifically for the E&S market. All stakeholders in the E&S value chain—agents, underwriters, consumers, wholesalers and MGAs—are able to collaborate in real time for the distribution of E&S lines of business.
The Distribution Portal provides a solution that enables wholesalers, MGAs and brokers to connect, communicate and manage business with carriers and agents. It combines SeaPass' solutions for carrier automation and agency quoting into a single online portal that supports both admitted and excess-and-surplus lines.
SeaPass makes the E&S Carrier Portal available in an enterprise, hosted or software-as-a-service model.
"We are excited to offer wholesalers, MGAs and brokers a fast, efficient, low-risk entry to provide their businesses an automated way to access markets, while also making it easy for their agents," Tim Attia, senior vice president of sales, says of the Distribution Portal. "The much faster response time and higher level of customer service for prospects and clients will result in more referrals, translating to more premium revenue."