Project CAP (Consumer Agent Portal) has released several technology offerings to assist independent producers in building an online and social-media presence in order to better compete against direct-writer and captive-agent carriers.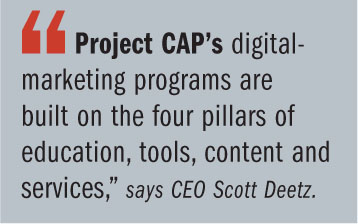 Created by an alliance among the Independent Insurance Agents & Brokers of America (IIABA), Trusted Choice, state associations and insurance carriers, the program is offered exclusively to the 22,000 member firms of the IIABA. CAP's aim is to heighten independent agents' and brokers' visibility among online consumers.
The products offered include Bronze, Silver and Gold levels, all of which are self-directed marketing programs; as well as full-service Platinum and Diamond levels.
Tim McDonnell, CAP's vice president of corporate relations and communications, says the self-directed programs are for firms that are comfortable with technology and tech-savvy enough to update their own Web sites and incorporate social media into their workflow.
The full-service market programs involve consultants for those agencies that don't have the staff or comfort level with technology and need a professional leg up in the digital space.
"Project CAP's digital-marketing programs are built on the four pillars of education, tools, content and services," says CEO Scott Deetz. He says more than 700 agencies have enrolled and chosen specific insurance-marketing programs based on their individual levels of expertise and knowledge.
The offerings range from participation in the CAP portal; to mobile apps; to direct assistance in writing and designing an agency's online offerings.
McDonnell says the roll-out is part of a two-step program: The first phase is the business-to-business phase for the agency to build its online presence. The next phase, due this summer, is the consumer one, in which agencies involved in CAP will begin reaching out to insurance buyers with features and tools designed for them, including the ability to get auto-insurance quotes.