NU Online News Service, Feb. 27, 10:23 a.m. EST
Berkshire Hathaway's insurance group reported a 30.5 percent drop in pre-tax earnings in 2011, driven mainly by $2.6 billion in pre-tax losses from catastrophe events.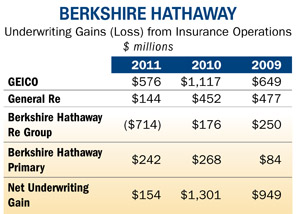 Year-end earnings at the insurance group—which consists of GEICO, General Reinsurance, Berkshire Hathaway Reinsurance Group and Berkshire Hathaway Primary Group—were $4.97 billion compared to $7.16 billion in 2010.
For 2011, Warren Buffett's Berkshire generated $10.3 billion in net income, down from nearly $13 billion in 2010. Fourth-quarter net income of $3.05 billion was down from $4.4 billion in net income the prior year.
After-tax underwriting income for the insurance group plummeted more than 88 percent to $154 million in 2011, compared to $1.3 billion in 2010. Additionally, investment income for the group was down nearly 8 percent to $3.55 billion.
The drop in after-tax underwriting income included $1.7 billion from several catastrophes which happened primarily in the first quarter of 2011, including earthquakes in Japan and New Zealand, Berkshire reports.
After-tax catastrophe losses for the insurance group in 2010 were less than half of the total for 2011—about $600 million.
Berkshire Hathaway Reinsurance Group (BHRG) reports an underwriting loss of $714 million for 2011. A segment defined as "catastrophe and individual risk" within the excess-of-loss reinsurer posted an underwriting loss of $321 million on about $800 million in estimated catastrophe losses related to earthquakes in Japan and New Zealand.
At General Re, pre-tax underwriting income in its property and casualty segment was $7 million in 2011, compared to $289 million in 2010. The gain was the result of $127 million in net underwriting profit from casualty and workers' compensation business offset by an underwriting loss of $120 million from the reinsurer's property business, which included $861 million in catastrophe losses in 2011.
Premiums written at General Re were basically unchanged in 2011 from 2010 and premiums earned declined about 1.3 percent year-to-year.
"Price competition in most property and casualty lines persists," Berkshire says. "Our underwriters continue to exercise discipline by not accepting offers to write business where prices are deemed inadequate."
In 2011 auto insurer GEICO increased premiums earned 7.6% over 2010, to $$15.36 billion.
The segment reported a 2011 underwriting profit of $576 million compared to $1.12 in 2010 as underwriting expenses increased $239 million over 2010 for additional advertising and increased payroll costs.
In 2011 bodily injury severity increased between 3 percent and 6 percent when compared to 2010, while physical damage severity increased in the 3-to-5 percent range, Berkshire says.