A culture clash between Willis Group Holdings and Hilb, Rogal & Hobbs (HRH), acquired in 2008, led to a significant amount of business lost in North America, contributing to a 57 percent drop in net income for Willis' 2011 fourth quarter.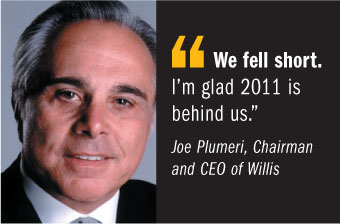 The global insurance broker reports Q4 2011 net income dropped $59 million vs. the prior year to $44 million. Revenues were down 1 percent, or $8 million, to $825 million.
For the year, net income was down 50 percent, or $235 million. Revenues on the year grew 4 percent, or $121 million, to $3.45 billion.
"We fell short," Willis Chairman and CEO Joe Plumeri said during the company's earnings call. "I'm glad 2011 is behind us."
Plumeri said the poor business results were the product of a combination of HRH producers leaving Willis and taking business with them; poor performance in its mortgage-insurance placement-services company Loan Protector; and European economic conditions negatively impacting earnings.
Plumeri also said that beginning in April, the firm will collect contingent commissions on employee-benefits business.
Willis does not take contingent commissions on its brokerage business, and Plumeri has long been a vocal opponent of taking them because he feels they can have an undue influence on business placements. He said the firm is switching policy because of changes in compensation as a result of health-care reform cutting into commission payments.
The move does not signal a change in the firm's overall commitment to not accepting contingent commissions, he added.