Last year, various swaths of the U.S. experienced severe weather events, from scorching heat and raging wildfires to record flooding and tornado clusters.
In the wake of rebuild efforts scattered across the country, there is mounting evidence to suggest that certain weather patterns may become more persistent (and also destructive) in the future due to the effects of global warming.
Environment Maine is among the agencies that have recently produced documentation that will likely give legislators, insurers, and citizens some pause. The statewide, citizen-based environmental advocacy organization recently issued a report stating that every county in Maine has been hit by at least one federally declared weather-related disaster since 2006.
In the new report, which is titled "In the Path of the Storm: Global Warming, Extreme Weather, and the Impacts of Weather-Related Disasters in the United States," Environment Maine references county-level disaster declaration data from the Federal Emergency Management Agency (FEMA) from 2006 through 2011 and draws upon various scientific papers postulating the ongoing influence of global warming. The agency explores the fluctuations in heavy rain and snow; heat, drought and wildfires; and hurricanes and coastal storms and also discusses how damage from "non-extreme" weather events could actually increase because of rising sea levels and a host of other factors.
Key findings from the Environment Maine report include:
Since 2006, federally declared weather-related disasters affected all 16 Maine counties. Recent weather-related disasters in Maine included blizzards in December 2010; torrential rains in February 2010 that created record tidal surges, knocked out power to 133,000 homes and caused $5 million in damage; and Hurricane Irene, which damaged nearly 200 roads and a dozen bridges.
In 2011 alone, federally declared weather related disasters affected four Maine counties housing 320,000 people. Nationally, the number of disasters inflicting more than $1 billion in damage (at least 14) set a record last year, with damages totaling least $55 billion.
Nationally, federally declared weather-related disasters have affected counties housing 242 million people since 2006—or nearly four out of five Americans.
Heavy Rains on the Horizon?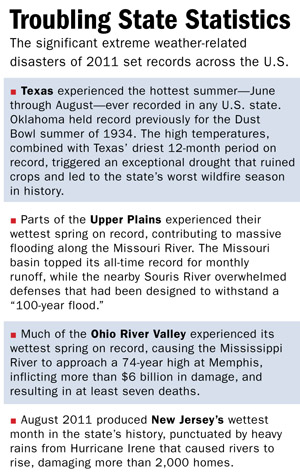 Specifically, Environment Maine cites reports that the U.S. has experienced an increase in heavy precipitation events, "with the rainiest 1 percent of all storms delivering 20 percent more rain on average at the end of the 20th century than at the beginning." This trend towards extreme precipitation, the agency says, is projected to continue in a warming world, even though higher temperatures and drier summers will likely also increase the risk of drought in between the rainy periods and for certain parts of the country.
Moreover, research upon which the agency based this latest report suggests that hurricanes "are expected to become even more intense and bring greater amounts of rainfall in a warming world, even though the number of hurricanes may remain the same or decrease."
"The Patriot's Day Storm of 2007 shows the harsh impacts of weather on our public infrastructure and on private property," says Portland City Councilor David Marshall. "To mitigate the impacts of storm surges on our waterfront neighborhoods, Portland is planning for future and will use policy tools such as zoning and capital planning."
As the Obama administration seeks to finalize new carbon pollution and fuel efficiency standards for cars and light trucks, mounting reports of this nature and scope are expected. Environment Maine says its latest release underscores the importance of state participation in the Regional Greenhouse Gas Initiative (RGGI).
For now, it is clear that insurers and policymakers alike will continue to investigate all viable causes and mitigation tactics to prevent the loss of life and property in the event of future calamity.
An interactive map charting Maine's recent weather-related disasters can be accessed here.