NU Online News Service, Feb. 22, 3:08 p.m. EST
Consumers do not want to do all their insurance shopping online, they care about more than just price, and good claims service is something consumers expect, rather than an extra bonus that will help a company's retention rate, according to the findings of an Ernst & Young survey.
The survey polled 24,000 respondents across 23 countries. E&Y breaks down the results for the Americas respondents in a report, "Voice of the Customer: Time for Insurers to Rethink Their relationships."
Regarding property and casualty consumers' online habits, E&Y notes that "received wisdom" is that internet resources are growing and that in the future, online will be the dominant channel for both research and transactions. But the study says, "Our research indicates that while online is an important part of the future, it is just one component of an integrated channel management capability that is critical to growth."
In the Americas, E&Y says 23 percent of customers are using a range of online channels to research purchases, well under the 32 percent of customers in Europe and 39 percent in Asia-Pacific that are using online sources.
As for actual insurance purchases, just 7 percent of consumers in the Americas use online channels compared to 14 percent in both Europe and Asia-Pacific.
E&Y expects, based on experience around the globe, that aggregators and competitive websites will gain in prominence in the Americas, describing the online insurance world today as "still in its infancy."
But the study contends that personal contact is still essential now and will continue to be in the future. "Customers clearly voiced a desire for both improved online access and continual personal contact when it matters."
E&Y adds, "In our opinion, a true multichannel approach to servicing the customer is essential, not just today, but in the years to come." In fact, E&Y adds that customers expect insurers to integrate different methods of communication so they can choose the method that best suits them at any given time.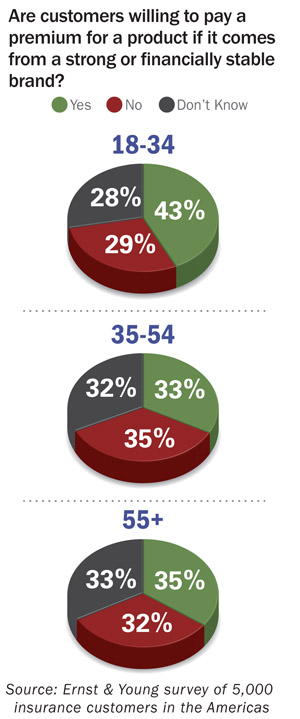 On consumer attitudes toward pricing, E&Y says this factor is "particularly sensitive" for new business, but that at renewal, customers will also consider the service they have received and the confidence they have in the provider.
While price remains a key driver for purchasing behavior overall, with 58 percent of Americas consumers saying it was the key factor in purchasing insurance, the consumers also consider whether the brand is well known or trustworthy (42 percent), customer service (34 percent), whether they hold another product from the same insurer (31 percent), the company's track record or reputation (29 percent), and the company's financial strength and stability (25 percent).
Additionally, a relatively high proportion (43 percent) of young consumers (18-34) say they are more willing to pay a premium for a financially stable brand. Only 33 percent of customers in the 35-54 age bracket say the same.
E&Y recommends that insurers pay attention to price, but also focus on product flexibility, brand positioning, customer segmentation and ease and simplicity of the sales and renewal processes. Furthermore, E&Y says insurers must manage their brand online to "ensure that blogged and tweeted comments reflect their brand values."
For claims service, E&Y says that while "received wisdom" is that a good claims experience will drive loyalty, its research shows that a good claims experience is now expected.
"Excellent claims service is expected and will not, in itself, drive loyalty or customer retention," the study says. However, a poor claims service is likely to drive customers away.
The study addresses other issues, such as whether customers respond to cross selling. While many insurers feel customers resent insurers trying to sell them additional products, E&Y says research shows that insurers who understand customers' needs and offer the right products can cross-sell, up-sell and repeat-sell effectively.
E&Y also says insurers can influence customer retention more than they may believe. "Our research shows that customers, as a general rule, do not wish to switch product providers in the Americas," the study says. "Some 65 percent of consumers are either not likely or not at all likely to change insurers in the next five years."
However, E&Y notes that across nearly all countries, consumers will switch if the insurers make little or no effort to retain them. "This is particularly unfortunate given that in all but one of the countries we surveyed, more than half of consumers indicated that they would have been more likely to renew had they been contacted by their insurer or agent."
For a breakdown of the habits of life and annuity customers, see the LifeHealthPro story, E&Y Debunks the Top 5 Life and Annuity Myths.